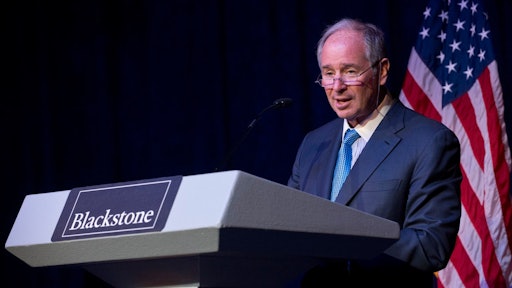 Blackstone Group LP, a private equity company, agreed to buy 46 industrial properties in the U.S. from LBA Realty LLC for $1.5 billion as it steps up investments in stable, income-producing real estate with low risk, said a person with knowledge of the transaction, according to Bloomberg.
Warehouses are attractive to investors because demand from tenants including Amazon.com Inc. are fueling big gains in rents.
The warehouses, located mostly on the West Coast, total 12 million square feet (1.1 million square meters) and are about 95 percent occupied, said the person, who asked not to be identified because the deal is private. Blackstone declined to comment. LBA Realty didn't immediately return a call seeking comment.
The deal marks the latest sign that the e-commerce-driven business" is one of the hottest areas in commercial property, according to The Wall Street Journal. The Wall Street Journal referenced the properties being acquired as a "portfolio of logistics centers."
Blackstone, the world's biggest private equity owner of real estate, has been acquiring properties that offer predictable income streams since it got into the so-called core-plus real estate business in late 2013.
To read more, click here.