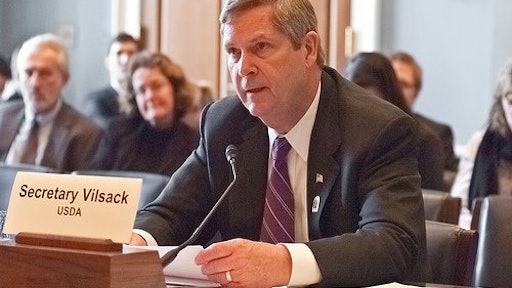 Agriculture Secretary Tom Vilsack has announced the U.S. Department of Agriculture (USDA) Branded Food Products Database, a free online resource for families, the food industry and researchers containing nutrition details on more than 80,000 name brand prepared and packaged foods available at restaurants and grocery stores. The announcement was made at the Global Open Data for Agriculture and Nutrition (GODAN) Summit.
The USDA Agricultural Research Service partnered with the International Life Sciences Institute North America, GS1 US, 1WorldSync, and Label Insight to develop the new database and user-friendly interface to make it easier for private food companies to add and update data. The database provides a transparent source of information that can assist health professionals identifying foods and portion size for people with food allergies, diabetes, kidney disease and other conditions. Common consumer health and nutrition apps may also use the data as a resource to bring information to consumers on a phone or watch in real time while shopping or dining out.
The Branded Food Products Database expands the USDA National Nutrient Database, which contained basic information on about 8,800 branded foods and has served as a main source of food composition data for government, researchers and the food industry. As information is added in the coming months, it is expected the new database will include up to 500,000 products with an expanded level of detail including serving size, servings per package and nutrients shown on the Nutrition Facts Panel or the Expanded Nutrition Facts Panel, plus weights and measures, ingredient list and sub-list, and a date stamp associated with current formulation of the product.
Access the (USDA) Branded Food Products Database here.
Editor's Insight: Traceability of food product attributes is one of the most critical factors in today's food industry, and the progress that both public and private organizations are making in improving access to product attributes bodes well for the future. Supply chain service providers need to be part of this change in order to stay relevant.
Technology has created a vast array of tools that enable this capability, such as sensors, barcodes, RFID tags, label printers, GPS transmitters, radio frequency scanners, temperature and humidity loggers and supply chain software.
Much of this innovation is being driven by government regulations, but the technology itself is contributing to the demand for transparency.
Label Insight, a company that provides Software as a Service (SaaS) solutions for transparency between brands, retailers and consumers, recently released the results of a survey that found 9 in 10 consumers say transparency is important to them across every food product category. Forty percent said they would switch to a new brand if it offered full product transparency. 9-19-16 By Elliot Maras