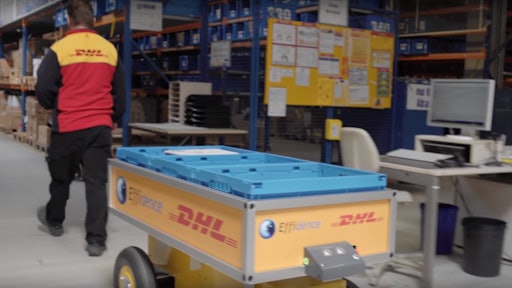 DHL announced the successful conclusion of a pilot program aimed at testing the effectiveness of using robots to help out the people working in their warehouses, according to Inverse, a news website that covers digital culture and technology.
Called "pickers," these human employees usually start their day assembling a cart that they'll then spend the rest of their day pushing around the warehouse. With each package located, the cart gets heavier. And when it's full and at its heaviest, the picker has to push the cart to the offload point, unload it, and start the process all over again.
Shipping warehouses can be huge, upwards of 30,000 square feet and the loads get heavy. Seeing as the pickers are only human, DHL and the French robotics company Effidence are looking for a better way — for both efficiency and the employees. The improvement comes in the form of a souped-up Radio Flyer wagon with a brain, and it goes by the name EFFiBot.
EFFiBot sits on four heavy-duty all-terrain wheels, its body is mainly an open wagon-like bay that holds upwards of 650 pounds. Sensors on the front help EFFiBot follow the picker throughout the warehouse as he or she finds packages on the shelves and places them on the robot to carry. "Once it reaches full capacity, the picker simply sends [EFFiBot] to the designated drop-off location, while another [EFFiBot] joins," explains Michael Artinger, site manager for the DHL Supply Chain. "This solution makes moving from single to multi-order picking a more efficient and ergonomic process."
The use of this robot helper is still in the pilot stage, and the use of EFFiBot is just a small sample of what DHL has planned. In a 37-page report titled "Robotics in Logistics," DHL outlines how in the near future there will be robots that will be able to handle everything, from unloading tractor-trailers at the warehouse, to home delivery of packages.
To read more, click here.