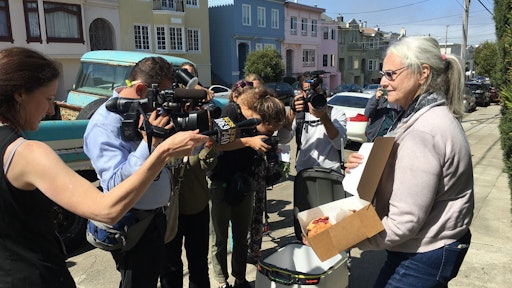 Starship Technologies, an Estonian company that's among several contenders seeking to crack the last-mile challenge, recently tested a robot that delivers food to homes in San Francisco, according to The San Francisco Chronicle.
While Amazon tests deliveries with flying drones, Starship Technologies is one of many upstarts trying a more earthbound approach. Ahti Heinla, an engineer who helped start Skype, started Starship Technologies with Skype co-founder Janus Friis after entering a NASA contest to build robots to collect rock samples on Mars and the moon.
Starship's "friendly sidewalk robots" are designed to deliver parcels, groceries and other goods within a 2-mile radius, the company said, operating as a local on-demand service, rather than competing with FedEx and UPS.
While they drive — or roll — autonomously using nine cameras, GPS, sophisticated software and Starships's own maps, which are accurate to the nearest inch, they are monitored by humans in a remote location who can take over control if need be.
Starship plans to have 100 robots per human operator and to rent them out to other businesses on demand. To start, each delivery might cost a few dollars, Heinla said, but eventually the cost could be pennies per delivery.
Starship Technologies asked San Francisco for permission to do the test. After a few days of pondering, the Department of Public Works decided on a temporary occupancy permit ($66 per side of a block) ticket.
Starship Technologies is talking to San Francisco, among many other cities, about passing laws to enable its brood to hit the streets. Washington this year became the first U.S. city to legalize "personal delivery devices" powered by electric motors on its sidewalks. That will enable Starship Technologies to do more extended tests of its R2-D2-like brood there later this year.
Other companies working on delivery robots include San Jose's Fetch Robotics, which has $23 million in funding; San Francisco's Marble, which is still in stealth mode; South San Francisco's Dispatch Robotics, doing testing on college campuses; and Robby Technologies, which recently graduated from the Y Combinator accelerator and soon will begin a pilot program with Instacart. At least three Chinese companies, including e-commerce giants Alibaba and JD.com, are also developing robotic couriers.
Starship Technologies is testing the robots in Europe with commercial partners like London's Just Eat and Pronto food-delivery companies; the Swiss Post; and Germany's Hermes delivery service. This month it partnered with Mercedes-Benz to develop and test Robovan, which will use the carmaker's Sprinter vans as mother ships for eight delivery robots.
To read more, click here.