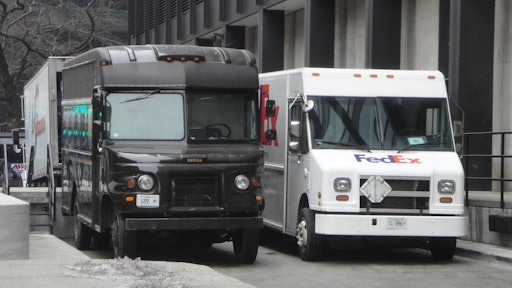 In recent weeks, speculation has mounted that Amazon.com Inc. plans to launch a global shipping and logistics operation that will compete with United Parcel Service Inc. and FedEx Corp.
Asked about reports that the company was leasing planes and had registered an ocean freight booking business, Chief Financial Officer Brian Olsavsky downplayed Amazon's ambitions last month in an earnings call. He said the company was simply looking to supplement its delivery partners – not replace them – during peak periods like the Christmas shopping season
Amazon documents reviewed by Bloomberg News reveal a far bolder plan.
A 2013 report to Amazon's senior management team proposed an aggressive global expansion of the company's Fulfillment By Amazon service, which provides storage, packing and shipping for independent merchants selling products on the company's website. The report envisioned a global delivery network that controls the flow of goods from factories in China and India to customer doorsteps in Atlanta, New York and London. The project, called Dragon Boat, is proceeding, according to a person familiar with the initiative, who asked not to be identified because the information isn't public.
The ambitious strategy promises to turn FedEx and UPS into Amazon rivals, but also will pit the Seattle giant against Chinese counterpart Alibaba Group Holding Ltd. Both companies are vying for dominance of the rapidly growing cross-border e-commerce market, which by 2020 is expected to swell into a $1 trillion industry serving 900 million shoppers, according to a June report from Accenture and AliResearch, Alibaba's research arm.
Amazon's plan would culminate with the launch of a new venture called "Global Supply Chain by Amazon," as soon as this year, the documents said. The new business will locate Amazon at the center of a logistics industry that involves not just shippers like FedEx and UPS but also legions of middlemen who handle cargo and paperwork associated with transnational trade. Amazon wants to bypass these brokers, amassing inventory from thousands of merchants around the world and then buying space on trucks, planes and ships at reduced rates. Merchants will be able to book cargo space online or via mobile devices, creating what Amazon described as a "one click-ship for seamless international trade and shipping."
"Sellers will no longer book with DHL, UPS or Fedex but will book directly with Amazon," the 2013 report said. "The ease and transparency of this disintermediation will be revolutionary and sellers will flock to FBA given the competitive pricing."
Amazon will partner with third-party carriers to build the global enterprise and then gradually squeeze them out once the business reaches sufficient volume and Amazon learns enough to run it on its own, the documents said.
If the logistics business takes hold, financial services could follow, with Amazon giving loans to merchants, processing international payments and consulting its network of sellers on customs and tax matters.
The strategy echoes the company's move into cloud services, which it developed internally and gradually expanded into a commercial enterprise that's now Amazon's fastest-growing and most profitable division. Amazon never made big proclamations about its cloud operations in the early days and instead marketed directly to software developers. Companies like Hewlett Packard, Dell and Microsoft largely ignored the threat and are now playing catch-up.
"This is classic Amazon fashion," said Colin Sebastian, an analyst at Robert W. Baird & Co., who says a global logistics operation could become a $400 billion business for Amazon. "They take baby steps along a long path, which allows some companies that could be disrupted to remain in a sense of denial. Amazon rarely takes one big step forward that shocks the market."
The company declined to comment. The shares fell 1.5 percent to $480.67 at 12:23 p.m. in New York.
Amazon laid out its logistics strategy in 2013 after predicting an uptick in the flow of merchandise from Amazon sellers in one country to buyers in another. In the initial document -- a proposal to Amazon's senior executive team for planning purposes -- the company described a "revolutionary system that will automate the entire international supply chain and eliminate much of the legacy waste associated with document handling and freight booking."
The new business will rely on networks of merchants in manufacturing nations like China and consolidate their inventory in shipping hubs. The large volume of goods means Amazon can buy cargo space at lower wholesale rates and win over small merchants by passing on the savings. By automating the shipping paperwork, Amazon can further reduce costs and make the process more convenient for merchants.
With a few finger taps on their smartphones, merchants in China will summon Amazon trucks to pick up products from their factories and warehouses, the documents said. Once the shipments reach their destination ports, they will be plugged directly into Amazon's distribution networks for speedy home delivery.
Merchants in China and India are keen to reach online shoppers in the U.S. and Europe --and operation Dragon Boat will help close the gap between them. In the proposal, Amazon said the new logistics business would open cross-border commerce to smaller merchants who otherwise wouldn't bother with it. That in turn would make many more products available to Amazon shoppers around the world.
To read more, click here.