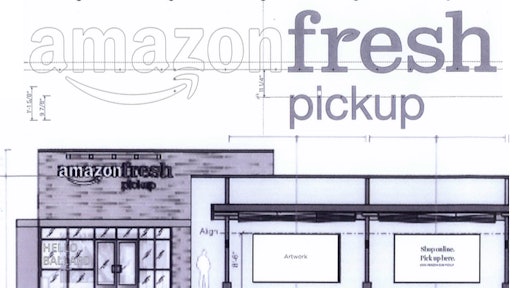 New permit documents uncovered by GeekWire reveal "AmazonFresh Pickup" as the next phase in the e-commerce giant's physical retail initiatives, amid new clues that the first drive-up grocery locations could open in Seattle soon.
In addition, GeekWire glimpsed part of what will happen when customers arrive at the stores, as workers temporarily took the wraps off some of the signs located at each parking stall in one of the Seattle locations.
Each store includes an awning for drivers to park under and a brick-and-mortar store where employees put orders together. The Ballard store will have an elevated sign on the roof that faces south, so drivers crossing over the Ballard Bridge into the neighborhood can see it. The SoDo store is within the Starbucks headquarters building, according to project documents, and the awning is on the southeast corner of the parking lot.
Amazon has yet to publicly acknowledge the stores, but the company's name has appeared in permit documents several times.
To read the full original article, please click here.