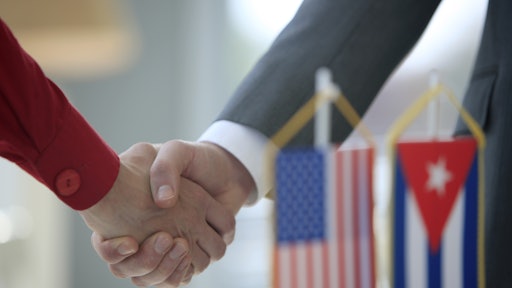 Mergers and acquisitions (M&As) by logistics and transportation companies slowed in the third quarter as companies stepped back to evaluate the market after a rush to consolidation over the past year, according to The Wall Street Journal.
Consulting firm PwC U.S. tracked 44 deals worth a cumulative $28.8 billion in the third quarter, down from 63 deals worth $39.4 billion in the second, while the average size of an M&A deal in the industry rose slightly to $656 million.
The pause comes amid a go-go year for logistics deal making. This year is on pace to be the sector's most active since 2006, measured by its total deal value of $97.9 billion.
PwC reported deals in the third quarter were more concentrated into a few big transactions than in earlier quarters. Just six deals represented 63 percent of the quarter's deal activity, or $18.3 billion. That includes XPO Logistics Inc.'s $3 billion acquisition of trucking company Con-way Inc. and warehouse owner Global Logistic Properties' $4.6 billion purchase of Industrial Income Trust's U.S. portfolio.
Andrew Tipping, a partner in PwC's transportation group, said the trend is toward more companies offering a wider array of services to customers, including arranging for transportation and owning and operating trucks, rail freight services and warehouses.
"The industry is facing disruption at the moment, especially in terms of using technology to control transportation," Tipping said. "The current situation is either be asset-light or asset-heavy. You either have a ground network or you're a freight forwarder. There is a shift toward that place in the middle where you are customer-friendly, which is what the asset-heavy businesses are lacking, but also to have the facilities and assets that the brokerages are lacking."
"A one-stop shop is the way you achieve that," Tipping said.
To read more, click HERE.
Editors Insight: Consolidation is taking place in all segments of the supply chain as companies need more resources and larger customer bases to compete successfully. Companies in all segments need to invest more in technology and human resources as customers demand more services so that they, too, can remain competitive.
New technology, the growth of e-commerce and the ability of customers to access information faster are all changing the logistics industry.
This report in today's Wall Street Journal notes that XPO's recent acquisition of Con-way, which closed on Friday, expands XPO's global contract logistics platform by bringing broader services to shippers. The merger also makes XPO the second largest provider of LTL transportation in North America. 11-3-15 By Elliot Maras