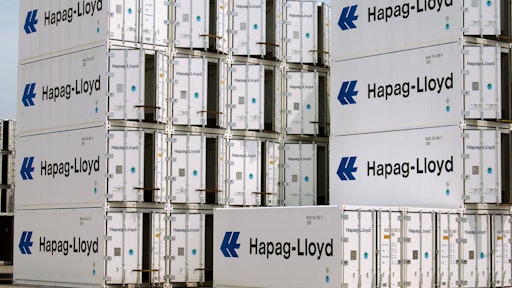 The merger and acquisition (M&A) activity in the ocean carrier sector has yet to subside, with the latest reports in June of Cosco Shipping's intent to acquire Orient Overseas Container Line (OOCL). Over the last three years, seven of the biggest 20 container lines merged or were acquired by other lines. Hanjin Shipping filed bankruptcy.
By all accounts, the liner shipping industry has experienced the most significant restructuring in its history, with more activity likely to occur.
The cause for this restructuring is overcapacity and persistent low freight rates, forcing many steamship companies to operate in the red. Drewry Maritime Research estimates those losses were around $5 billion in 2016.
Some steamship lines see M&A activity as a plus for reefer shippers. Rolf Habben Jansen, CEO of Hapag-Lloyd (HL), believes that the May 24 merger between HL and United Arab Shipping Company (UASC) makes his carrier stronger.
"We now have not only a very strong market position in Latin America and the Atlantic, but also in the Middle East, where we will become one of the leading carriers," he says.
The merger integrates UASC's 58 vessels with HL's for a total of 230 vessels—and one of the youngest fleets (7.2 years) in the industry. The average size of the vessels is 6,840 TEUs—which is approximately 30 percent larger than the average of the top 15 in the industry.
The merger also combines 118 HL services with 45 UASC services. The job of combining these services is expected to be complete by the end of the third quarter, when UASC's transport volume transitions to HL's information technology (IT) platform.
Rainer Horn, HL spokesman, reports that, so far, the transition has been smooth.
"We have more than 10,000 transition tasks integrated in a project management tool in order to account for everything as well as for synergy tracking," he explains. "We inform our customers through various channels, including a personal visit or a call from a sales rep explaining the upcoming steps of the transition and what they mean for the customer."
CMA CGM, Seatrade and Marfret announced on July 18, a new vessel sharing agreement that will incorporate the services known by CMA CGM as PAD and by Seatrade as MERIDIAN—improving their frequency and port coverage. The service, which is scheduled to launch in October 2017 (subject to validation by authorities), will link Northern Europe, the U.S. East Coast, Central America, the Pacific Islands, Australia, New Zealand, Peru and the Caribbean on a weekly basis. Thirteen modern geared ships with a nominal capacity between 2,200-2,500 TEUs will be deployed on this new service (six CMA CGM, six Seatrade and one Marfret). Each will have a minimum of 600 reefers.
CMA CGM owns the second largest reefer container fleet in the world, with more than 325,000 TEUs.
Global Alliance Reorganization
Meanwhile, a reorganization of carrier participation in global alliances also is occurring. In early 2016, 16 carriers participated in four global alliances. By April 2017, 12 carriers became members of three global alliances: 2M (Maersk and MSC), Ocean Alliance (COSCO, CMA CGM, Evergreen and OOCL) and Transport High Efficiency (THE) Alliance (Hapag-Lloyd, K Line, MOL, NYK, and Yang Ming). These 11 carriers serve more than 70 percent of the global ocean container trade.
The U.S. Department of Agriculture (USDA) Agricultural Marketing Services (AMS) warned: "The changes in global carrier alliances could bring disruption to many agricultural exporter supply chains. Reduced capacity, fewer vessel sailings and rate volatility are of key concern to the agricultural export community, as the carriers attempt to 'right the ship' of overcapacity in the marketplace."
Most of these lines are—or will soon—deploy mega-vessels with a capacity of 15,000-20,000 TEUs.
Panelists at the annual meeting of the Agricultural Transportation Coalition (AgTC) in June voiced concern that new alliances add confusion when an exporter books a container with one carrier, but finds the shipment sailed on another carrier within the same alliance. Late deliveries also can occur.
Peter Friedmann, AgTC executive director, warned of more stress on seaport terminals and labor.
John Driscoll, maritime director at the Port of Oakland, however, says these developments have relatively little impact on the Port of Oakland.
Growth for Seaports
Port of Oakland officials see the refrigerated sector as an important growth sector. SSA terminal has been steadily investing in its reefer handling equipment and has arranged special programs with shippers to speed up delivery of export containers and the pick-up of inbound containers. Trapac Terminal is more than doubling its operation and is investing in a 150 percent increase in reefer plugs.
In addition, Cool Port Oakland is being developed as a temperature-controlled transload facility to maximize use of the port's road, rail and shipping network. "It will increase the import and export of perishable food products," Driscoll says.
The facility is projected to process 9,000 rail cars per year in Phase I (18,000 inbound and outbound), translating into 36,000 containers. An additional 9,000 containers are projected to move via truck. Phase I (approximately 280,000 square-feet) is expected to be operational by summer 2018.
The port also recently completed a $100 million investment in new rail capacity, which benefits both dry and reefer containers transported by rail to and from the port.
In addition, companies such as Preferred Freezer, AGRO Merchants and PCC Logistics have invested in new facilities and/or expanded and upgraded their existing facilities in proximity to the port. Currently, there is more than a million square feet of refrigerated facilities on and near the Port of Oakland.
To the south, the Port of Long Beach's executive director Mario Cordero notes that his port "is pursuing the largest modernization program of any seaport in the United States, totaling $4 billion this decade, to serve the container shipping industry, as ocean carriers add bigger and bigger ships." This includes $1 billion for a rail improvement program that will help prepare for cold chain expansion.
Weight requirements of temperature-controlled cargo, such as frozen meat, means a lot of the cargo moving from the Midwest requires rail transportation directly to terminals for export. "Our rail upgrades are built around this vital 'on-dock' rail, which is the most cost effective and environmentally-sustainable way to move goods due to the volumes transported," Cordero says.
Additionally, the new Long Beach Container Terminal, known as Middle Harbor, has 1,125 stacked spaces for reefers. It will also have 2,250 reefer spaces when construction is finished in 2020. "Overall, we will have 6,000 reefer spaces throughout the port," says Cordero.
He notes that as a landlord port, the Port of Long Beach provides facilities to tenants, such as those for refrigerated cargo, rather than engaging in the daily work of moving the cargo.
Karen E. Thuermer is an Alexandria, Virginia-based journalist who has been writing about logistics for several decades.