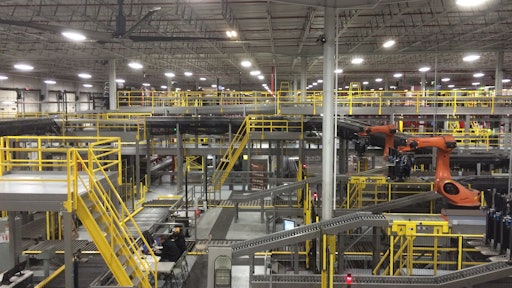 Because inventory represents one of the biggest costs in the food and beverage supply chain, material handling system providers continue to find ways to manage inventory more efficiently, according to the October Food Logistics. As SKU proliferation, globalization, safety and sanitation requirements add costs to managing inventory, supply chain managers have to consider all options for improving this critical function.
Food and beverage supply chain managers look at several factors when choosing inventory storage tools. A key consideration is improving storage density, along with minimizing product damage, protecting worker safety and ensuring product sanitation.
"Historically, food and beverage customers have chosen structural steel systems over rollformed steel systems due to the ease of cleaning structural steel systems," says Mike Adducci, Midwest region area market manager at Chicago-based Interlake Mecalux. "That trend currently continues. However, that comes at a cost as well, as structural steel systems tend to cost quite a bit more per pallet position versus roll-formed steel systems."
To read the entire article, click HERE.