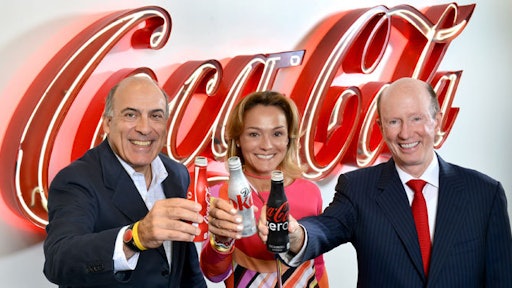 Coca-Cola Enterprises, Inc. (CCE), Coca-Cola Iberian Partners SA (CCIP) and Coca-Cola Erfrischungsgetränke AG (CCEAG), a wholly owned subsidiary of The Coca-Cola Co., announced they have agreed to combine their businesses into a new company to be called Coca-Cola European Partners Plc., in a transformational transaction that will create the world's largest independent Coca-Cola bottler based on net revenues. Through a world-class production, sales and distribution platform for the Coca-Cola system in Western Europe, Coca-Cola European Partners will be positioned to deliver superior execution and customer service, driving long-term value creation for shareowners.
With more than 50 bottling plants and approximately 27,000 associates, Coca-Cola European Partners will serve a consumer population of over 300 million in 13 countries across Western Europe, including Andorra, Belgium, France, Germany, Great Britain, Iceland, Luxembourg, Monaco, Norway, Portugal, Spain, Sweden and the Netherlands. The combined company will operate in the four largest markets for nonalcoholic ready-to-drink beverages in Western Europe – Germany, Spain, Great Britain and France.
Once combined, Coca-Cola European Partners will leverage and build on the best practices from each respective market and bottler to improve service to customers and consumers through a more consistent strategy for product development and market execution across Western Europe. The increased scale and flexibility of Coca-Cola European Partners' broader European geographic footprint will allow it to compete more effectively across nonalcoholic beverage categories.
Coca-Cola European Partners is expected to generate substantial synergies, including supply chain benefits and operating efficiencies. These synergies are expected to result in realized annual run-rate pre-tax savings of approximately $350-375 million within three years of closing. The new company's synergies will also position it for increased investment in sales and customer-facing activities to drive incremental top-line and profit growth over the long term.
Coca-Cola European Partners will combine the unique market knowledge of CCE, CCIP and CCEAG, enabling increased coordination and innovation to better serve customers and consumers at a local level in each market. As a larger and more diverse company, Coca-Cola European Partners will continue to invest, employ, manufacture and distribute locally, maintaining a strong commitment to the economic and social well-being of each community it serves.
"The creation of a larger, unified Coca-Cola bottling partner in Western Europe represents an important step in our global system's evolution," said Muhtar Kent, chairman and chief executive officer of The Coca-Cola Co. "We continue to adapt our business model to innovate, invest and grow along with the changing demands of the marketplace. With the strong leadership that will be assembled from across the three organizations, Coca-Cola European Partners will be well-positioned to deliver better and more effective service to customers throughout Western Europe and drive profitable growth across multiple beverage categories."
Sol Daurella, executive chairwoman of Coca-Cola Iberian Partners, added, "In 2013, we combined our family-owned Iberian Coca-Cola bottlers with over 60 years of history to better serve our customers and consumers. Our Iberian shareowners see today's announcement as an important step to further develop and optimize our offerings in Western Europe. As the single-largest shareowner in this new business we will play a strong strategic role in Coca-Cola European Partners, while continuing to be close to our country, business, local consumers and customers. Combining our unique expertise in the on-premise channels, targeted marketing experience and operational excellence with the skills of CCE and CCEAG, together we will drive growth in Western Europe."
"The creation of Coca-Cola European Partners will build on each bottler's capabilities to create more efficient operations in their respective markets across Western Europe," said John Brock, chairman and chief executive officer of Coca-Cola Enterprises. "We look forward to bringing together our world-class supply chain and sales team with the distinct strengths offered by CCIP and CCEAG to capture additional growth opportunities in each market. This transaction offers clear synergies, along with the scale to better serve the needs of our customers and consumers in Western Europe, to become an even stronger partner to The Coca-Cola Co. and create increased value for CCE's shareowners."