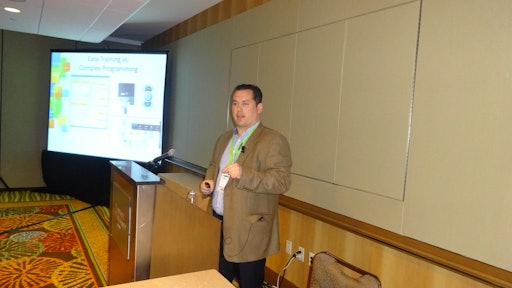 When you think of robots, do foreboding, massive metal frame structures come to mind? It's an outdated picture, according to one expert who describes a collaborative workplace where nimble machines with flexible limbs share work space with humans.
Chris Harbert, director of sales for manufacturing solutions, global research and education markets at Rethink Robotics, presented an overview of the new generation of "collaborative" robots that are finding a place in today's DCs during the Warehousing Education and Research Council (WERC) Conference Program at the Hyatt Regency Orlando, Fla.
The key advantage to what has been termed "collaborative" robots is their ability to perform a variety of tasks, as opposed to the large, industrial robots used for high-speed, repetitive motions in assembly lines. Collaborative robots can roam free on factory floors, rather than being bolted to a single location, and have safety sensors that prevent them from running into humans.
A show of hands in the packed room indicated many warehouses are already using robotics to some extent.
In describing the new generation of robots that are smaller than their heavy industrial forbears, Harbert said advances in robotic technology are coming at an opportune time, given the impending labor shortage and the rising cost of labor. He noted that his company, founded in 2008 by Rodney Brooks, has deployed hundreds of robots in businesses, academic facilities and research buildings.
"Robots are not new," Harbert said, pointing out they have been employed in industrial facilities for decades. What's new is the new flexibility they bring and the lower cost.
He acknowledged that "collaborative" robots are not always best suited to assembly operations where speed is of paramount importance. Nonetheless, he claimed they are better suited to more of today's warehouse operations where a more customized approach is needed.
Traditional robots, he noted, need to be stationery. They also require a process that does not involve a lot of change. "If you need to change something (in the process), that's a hard day," Harbert said.
When traditional robots are deployed, it usually takes two to three weeks to put the automation process in place, he said. Seventy percent of robots have been deployed in the automotive sector, he noted.
Harbert emphasized that collaborative robots are better suited to the needs of today's industrial facilities as "mass customization" has emerged. Nowadays, retailers want more stock keeping units, custom labels, and even custom packaging. "Traditional automation doesn't fit that very well," he said.
Another deficiency of traditional robots is that they can be dangerous. "Traditional robots are very, very dangerous," he said. Hence, facilities have segregated human activity from robots to ensure safety.
The new generation of collaborative robots allow facilities to assign the more repetitive tasks to robots and the more complicated work to humans.
Collaborative robots have more of their features are internalized, which brings down their cost. "The goal is to dramatically reduce the investment in bringing automation to a process," Harbert said.
Collaborative robots have:
behavior-based intelligence
pedestals with locking casters for easy mobility and stability
7 degrees of freedom per arm for maximum flexibility and range
compliant joints with force sensing and control delivery safety
a fully integrated system for a streamlined integration process
intuitive user interface for easy training and deployment
imbedded vision system
interchangeable
customized end effectors for easily switching tasks
Collaborative robots are meant to be near humans. "This is a huge departure," Harbert said. The robot senses the presence of another object – such as a human – and stops its process and waits.
The robots have tactile sensing to direct their movements. "The robot can use a human like strategy to make sure the job is being done properly," he said.
They include graphical interfaces and can also be instructed to do a new task.
Because of their ease of deployment, collaborative robots can be set up in a work space in one to three days, compared to the two or three weeks for traditional robots, Harbert said. This is largely because they require less programming and there is less training on the part of the people who oversee them.
The new generation of robots are also more affordable, he said. Collaborative robots on average cost around $49,000.
Harbert said the average cost for an industrial robot has declined from $182,000 in 2005 to $155,000 in 2010 to $133,000 in 2014. One reason the cost is declining, he noted, is the newer robots are smaller. Because of this, they need fewer safety features and less systems engineering. Hardware itself is not the biggest cost for a robot; safety features and systems engineering have been a big part of the cost. "These are complex systems," he said of traditional robots.
He noted that robot manufacturers usually offer onsite training.
Collaborative robots have been deployed for line loading and unloading, machine tending, custom processing, and pack out.
In one instance, a smart robot was put in a machine tending work area and no modification was needed for the work station.
One person in the audience raised the question of OSHA safety standards for these robots. Harbert responded that American National Standards Institute (ANSI) standards require risk assessments and site assessments for these robots at present. The current ANSI standards for robots were written in 2008 when collaborative robots did not exist, he said. He said new standards are in process and should be released this year.
"We've never had any problem with implementation," Harbert said. "We've never been stopped."
The economics for these robots will make sense in many facilities. Harbert said if two direct labor positions can be replaced by one of these robots, it can save $60,000 per year.
He said the typical return on investment is six to nine months. In response to a question, he said the typical life span is five to seven years.