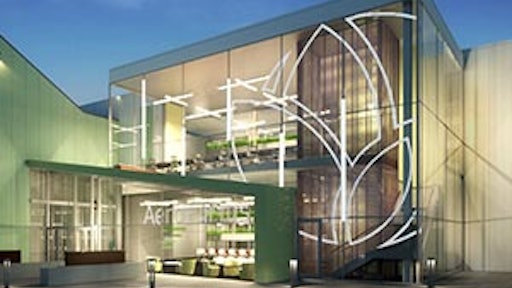 AeroFarms is developing the world's largest-producing vertical farm in a vacant steel factory in Newark, according to Fast Company. After it begins running later this year, the farm's indoor system of modular, stacked trays will grow around 2 million pounds of baby greens annually.
The company that has been developing vertical farm tech for the last decade. But the company sees the project as just the beginning—and hopes to build 25 farms in the next five years. AeroFarms already has eight smaller farms and five in the pipeline.
While the technology doesn't make sense for row crops like corn and wheat, it works well for something like leafy greens, which sell for more in the grocery store—making it feasible to grow them in or near a city. They also often tend to wilt when they travel thousands of miles from a farm in California to a faraway place like New York.
"By 2050, we need to double our food-growing capabilities. Part of that solution is vertical farming," said CEO David Rosenberg.
To read more, click HERE.