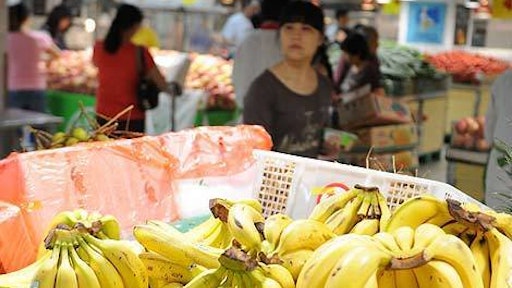 China's direct fresh fruit imports increased 22.8 percent to 3.3 million tons in 2014 compared to the previous year, according to figures released by China Customs, reported fruitnet.com.
Leading the imports were bananas, with imports increasing 119 percent to more than 1.1 million tons. The Philippines was the major supplier of bananas to China, with Ecuador increasing its imports 10-fold to more than 200,000 tons.
Exotics from neighboring South East Asian nations also played a role in the increased fresh fruit imports. Dragonfruit was the second-most imported fruit after bananas, with a 12 percent growth in imports to 603,000 tons, mostly from Vietnam, followed by longans and durian, predominately from Thailand. These four fruits accounted for 71 percent of China's total fresh fruit imports.
Temperate fruits, which have a strong demand from Southern Hemisphere suppliers due to the counter seasonal capabilities, comprised 17 percent of the total fresh fruit imports. Fresh grapes was the leading temperate fruit, supplied mostly from Chile and also from the US and Peru, lifted 13 percent to 211,000 tons. Oranges saw 90,000 tons imported in 2014, up just 3 per cent on 2013, mostly imported from South Africa and Australia while the Californian oranges remained locked out of the country.
Cherry imports increased 11 per cent to 64,00 tons, though the figure could have been higher had it not been for weather conditions hampering supply from Chile and the US, accounting for 80 percent and 15 percent of China's cherry imports respectively. The remaining 5 percent of cherries was supplied by Canada, Australia and New Zealand.
Kiwifruit imports increased 30 percent to 62,000 tons, mostly from New Zealand, with almost 25 percent of kiwifruit imported from Europe, particularly from Italy, which supplied 11,000 tons (175 percent more than in 2013).
To read more, click HERE.