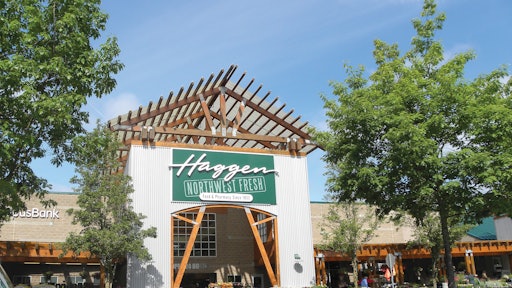 Pacific Northwest grocery chain Haggen has begun the process of acquiring 146 stores as part of the divestment process brought about by the Federal Trade Commission's (FTC) review of the Albertsons LLC and Safeway merger. Haggen will take ownership of the first Albertsons store in Monroe, Wash., Thursday.
With this acquisition, Haggen will expand from 18 stores with 16 pharmacies to 164 stores with 106 pharmacies; from 2,000 employees to more than 10,000 employees; and from a Pacific Northwest company with locations in Oregon and Washington to a major regional grocery chain with locations in Washington, Oregon, California, Nevada and Arizona.
"This momentous acquisition is a once-in-a-lifetime opportunity to rapidly expand the Haggen brand across the West Coast," said John Caple, chairman of the Haggen board of directors and partner at Comvest Partners, a private investment firm that owns the majority share of Haggen. "Now that the deal has closed, our team is focused on seamlessly converting these 146 stores to the Haggen brand over the next five months."
The Haggen team, led by John Clougher, CEO, Haggen Pacific Northwest, and Bill Shaner, CEO, Haggen Pacific Southwest, has outlined its plans to convert the stores. Under the settlement, the divestitures to Haggen must be completed within 120 days from the purchase of the first store.
Haggen will convert the stores moving from north to south, with a few exceptions. The first conversion begins on Thursday at the former Albertsons located at 19881 SR 2, Monroe, WA. Soon after, another 18 stores in Washington will be converted during February and March, with the final seven Washington stores scheduled in June. The 83 stores in California will be converted from March to May. The 20 Oregon stores will transfer to the Haggen brand throughout the months of March, April and May. The Nevada and Arizona stores will be the last to convert in the late spring. Each week, between one and 12 stores will be converted.
As the stores are transformed into the Haggen brand from the Albertsons, Safeway, Pavilions or Vons brands, each store's employees will be invited to become Haggen employees. "Retaining the existing store employees was an essential part of the acquisition and we hope they all accept our invitation to join the Haggen family. These are great teams and these new employees will be an incredible asset to our growing company. Plus, these familiar faces will help ease the brand transition for long-time customers," said Bill Shaner.
The amount of time it will take for a conversion will vary store by store. Some stores can be converted within two days after the change of ownership, while others will take longer. Both interior and exterior signage will change at all locations. John Clougher said, "We're excited about the changes we're making to enhance these stores, and we're confident customers will like the new look, the new offerings, and their new full service grocery destination."
Shaner noted how the store offering will change. "Haggen has built its 81-year-old business on providing excellent, locally sourced, fresh produce and high quality meats and seafood. That focus will definitely be reflected in the new stores," he said.
As a full-line grocery store, Haggen will offer a core assortment that meets the needs of regular shoppers. Plus, they will supplement that selection with products that are locally relevant. "Haggen is still small enough to be very nimble and responsive to each store's customers. What you find in a Bellingham store will differ from what you'll find in a store in San Diego. Being locally focused is a core value of Haggen," said Shaner.
The acquisition of the 146 stores by Haggen has been well supported by grocery industry partners. "We are incredibly grateful for key partners that have helped to make this acquisition a reality, including Unified Grocers, SUPERVALU and Charlie's Produce," noted Clougher. Unified Grocers will be the primary supplier in the Pacific Southwest and a secondary supplier in the Pacific Northwest. SUPERVALU will be the primary supplier in the Pacific Northwest. Charlie's Produce will be the primary and preferred supplier for produce for all Haggen stores. Haggen plans to announce many regional and local distributors in the coming months.
Additionally, Starbucks and Haggen have agreed to continue operating the 78 Starbucks stores located in Haggen's acquired properties, with remodeling planned for these existing cafés. Haggen will also be adding cafés to other locations. Clougher said, "We are proud to be continuing and expanding our partnership with Starbucks - another great Washington company committed to building stronger communities."
Clougher added, "With the help of both our long-standing and new partners and employees, we are excited to offer our locally sourced produce and groceries, genuine service, and homemade quality to customers throughout Washington and Oregon and now in California, Nevada and Arizona."