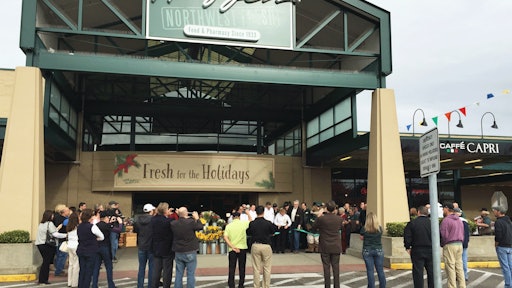 Bellingham, Wash.-based Haggen Inc. has announced that the U.S. Bankruptcy Court for Delaware in Wilmington confirmed the sale of 47 stores, many of them to Albertsons, according to The Packer.
The announcement by the bankrupt grocer listed the locations of 47 stores sold to a variety of buyers, including Albertsons LLC, Stater Bros. Market, Sprouts Farmers Market, Smart & Final Stores LLC, Yoke's Foods Inc., Tawa Inc., and others.
Boise, Idaho-based Albertsons was the most active buyer, acquiring 30 of the 47 stores listed as sold by Haggen.
Haggen declared Chapter 11 bankruptcy earlier this year after its failed Western U.S. expansion efforts, which were driven by its 2014 acquisition of nearly 150 stores from Albertsons. Now some of those stores are going back to Albertsons as Haggen seeks to continue to operate with a smaller footprint.
Seeking to fund its expansion efforts, Albertsons said it was preparing an initial public offering of common stock. In the document, Albertsons said it will be offering 65.3 million shares of common stock with an expected offering price between $23 and $26 per share. The stock will trade on the New York Stock Exchange under the symbol ABS, according to the document.
Albertsons estimates that the company's net proceeds from the offering in December will be about $1.5 billion. Albertsons owners, a group led by Cerberus Capital Management and several real estate companies, will still own 80.3 percent of Albertsons common stock after the planned offering. In a news release, Albertsons said that as of Sept. 12, the company operated 2,196 stores across 33 states and the District of Columbia under 18 banners, including Albertsons, Safeway, Vons, Jewel-Osco, Shaw's, Acme, Tom Thumb, Randalls, United Supermarkets, Pavilions, Star Market and Carrs.
To read more, click HERE.