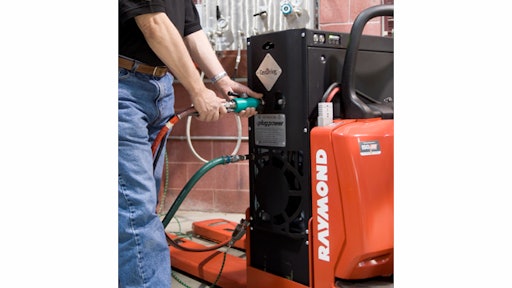 Plug Power Inc. has signed a long-term hydrogen distribution agreement with Praxair, Inc. a liquid hydrogen producer.
Plug Power will offer Praxair hydrogen to its customers throughout the U.S. who are using the company's GenKey hydrogen fuel cell solution. The GenKey solution consists of three separate elements: GenDrive fuel cell units, GenFuel hydrogen fuel and infrastructure, and GenCare maintenance service. Plug Power provides customers with full integration and deployment of the entire GenKey package to ensure a seamless transition to hydrogen fuel cell-based power for their material handling operations.
 Praxair's hydrogen supply system provides a high-quality, reliable source of hydrogen for Plug Power customers. Praxair has been providing hydrogen fuel and related technical support to fuel cell developers for over a decade and maintains liquid hydrogen production capacity and distribution capabilities throughout North America. Praxair recently announced it was building a steam methane reformer to increase the supply of hydrogen for customers served from its liquid hydrogen plant in Niagara Falls, New York. When completed in 2015, Praxair's Niagara Falls liquid hydrogen production capacity will increase by 50 percent.
 "Our agreement with Praxair will enable us to offer the most reliable and economical hydrogen solution to our customers," said Andy Marsh, chief executive officer, Plug Power Inc. "Plug Power's emergence in the fueling business will simplify the transition to hydrogen fuel cells for material-handling customers."
"Praxair is pleased to contribute to the expansion of fuel cell applications. Plug Power's GenKey solution and our hydrogen supply can provide customers with productivity benefits and help them reduce their environmental impact," said Todd Lawson, vice president of sales and business management for Praxair's U.S. industrial gases business. "This is another example of how Praxair enables companies to operate in a more sustainable and cost-effective manner."
Plug Power launched its GenFuel business in January 2014 as part of the GenKey solution. GenFuel provides customers with an all-inclusive hydrogen fueling solution. GenFuel services include molecule delivery in addition to project management, infrastructure support and operator training.