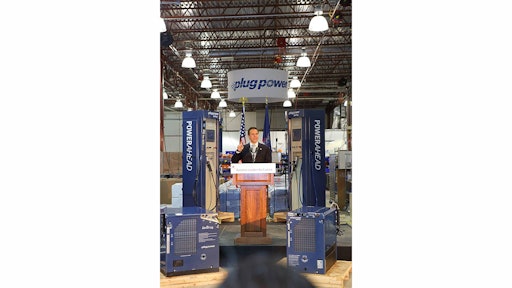 Plug Power Inc., a provider of clean, reliable energy solutions, recently welcomed New York State Gov. Andrew M. Cuomo to its corporate headquarters in Latham, N.Y.
During this visit, Cuomo toured the manufacturing facility and then told workers and executives of the dramatic positive impact he expects from the recent 0 percent manufacturing tax for operations in the State of New York. This is positive news for growing companies, like Plug Power, who are competing worldwide.
Plug Power manufactures 100 percent of its GenFuel hydrogen dispensing and GenDrive fuel cell products, which are shipped to customers domestically and internationally, from the Latham manufacturing facility. Plug Power has been headquartered in Latham since its founding in 1997, and opened the world-class manufacturing center in February of 2000.
The company manufactures its full suite of GenDrive hydrogen fuel cell units, as well as GenFuel hydrogen fueling stations for customers such as Walmart, P&G, Kroger and BMW.
"It was a pleasure to tour Plug Power today and see first-hand how businesses in upstate New York are not just surviving but expanding to become national leaders in their industry," said Cuomo. "From eliminating the manufacturers tax to transforming the state's economic development strategy, we have spent the last four years creating a business-friendly environment that has resulted in the creation of 500,000 jobs and the largest one year drop in upstate unemployment ever recorded. I look forward to continuing to build on the progress we've made in the next four years and working to help businesses like Plug Power keep thriving, creating jobs and growing New York's economy."
"We are happy to have welcomed Gov. Cuomo to Plug Power for the first time, and appreciate his tremendous support for manufacturing operations in New York State," said Andy Marsh, CEO at Plug Power Inc. "Governor Cuomo's business development focus is having a positive influence on the growth of manufacturers, state-wide."
As of September 2014, Plug Power had over 6,000 GenDrive fuel cells shipped to customer sites in North America. These units have accumulated over 20 million hours of runtime. Every day, nearly 6,000 kg of hydrogen is dispensed for fueling Plug Power fuel cells.