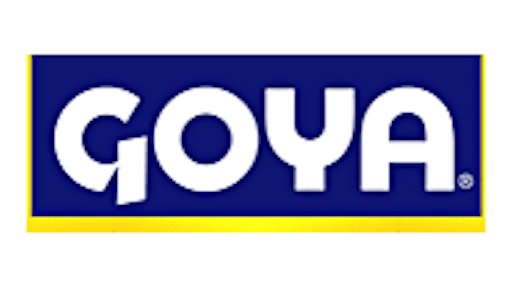 Goya Foods, the largest Hispanic-owned food company in the U.S., expands its West Coast headquarters with a new facility and distribution center in Southern California in response to the increased consumer demand of Goya's products.
As the only Hispanic food company to offer consumers an entire line of low sodium, organic, diet and sugar free products, the 250,000-square-foot facility will boost Goya's distribution capabilities of healthy and authentic Latin food and strengthen the company's position and growth in the West.
"Based on our current sales and the influence of Latin culture on the food industry, it's an opportune time to expand in California, a marketable region that represents high-growth for Goya," said Robert A. Unanue, who spearheaded the expansion of Goya and whose great grandfather Don Prudencio founded Goya Foods in 1936. "The new California facility will allow us to accelerate our reach and secure our position in one of the top regions of the United States while simultaneously allowing us to focus on the expansion of our healthy product lines."
The new facility will act as Goya's West Coast hub and service the surrounding states including Arizona, Nevada, Oregon, Washington and Utah. The new center features a new warehouse management system, increased capacity for packing, freezing, and railroad transportation that strategically runs through the West Coast and links to Goya's new facility in Houston, Texas.
As part of Goya's 2011 collaboration with First Lady Michelle Obama's MyPlate/MiPlato campaign, Goya has focused on expanding its healthy product lines that feature a variety of over 40 low sodium and organic beans, organic rice, brown rice, quinoa, beans, vegetables, frozen vegetables and fruits, coconut water, diet beverages, as well as household staples like olive oil and low sodium condiments.
"Goya's new California facility is part of the company's $300 million global expansion of four new state of the art manufacturing, production and distribution facilities in Texas, Georgia, and New Jersey, and will play a significant role in supporting our efforts to provide healthy products," said Bob Unanue, president of the company. The company printed over 336 million cans marked with the MyPlate logo. We've not only provided consumers with healthy options that have 'good taste, are good for you and of good value,' key elements that resonate with our popular tagline 'If It's Goya, It Has To Be Good,' but we've provided the educational materials and aligned our overall communications in order to really make a difference in the well-being of our consumers."