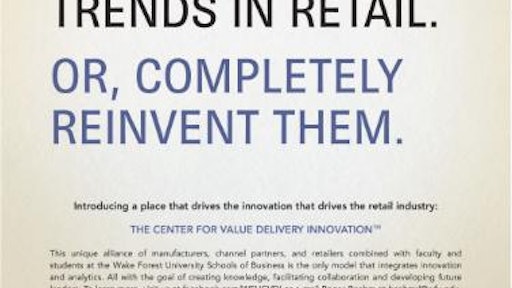 Winston-Salem, NC: Wake Forest University Schools of Business introduced the unveiling of its new Center for Value Delivery Innovation, a first-of-its-kind retail marketing collaboration, at the Grocery Manufacturers Association (GMA) Executive Conference in Colorado Springs, CO.
The Center has been developed to lead change in retail marketing and help the industry stay ahead of its consumers by offering a new model that combines retail marketing and data analytics through partner collaborations. The Center will create knowledge, develop innovation and train executive retail leaders. Its goal is to use collaborations with manufacturing, retailers and channel partners to lead change in the retail industry. Inmar, SymphonyIRI Group and John Whitaker, founder of Inmar, are founding sponsors of the Center.
At the GMA Executive Conference, the Center will be revealed to senior leaders of major food, beverage and consumer product retailers and manufacturers. The Center will also offer marketing management training to corporations and certification in data analytics.
"The Wake Forest Center for Value Delivery Innovation will provide a unique combination of knowledge creation, channel partner collaboration and leader cultivation -- something not found anywhere else today," says Steve Reinemund, dean of business for Wake Forest University and retired chairman and CEO of PepsiCo. "The Center will enable and empower retail marketers to compete more effectively during this challenging economic climate."
The Center is a service for both industry and academia, helping fill the ever-growing need for data-identified innovation and analytic-capable managers. It is established to enhance traditional and non-traditional retail marketing through research, thought leadership and education. By partnering world-renowned faculty, leading retail professionals and high-caliber students in a collaborative forum, the Center will focus on delivering breakthrough research and analysis.
"The Center will provide an ideal venue for faculty and Inmar's experts to collaborate with our 1200-plus, world-leading retail and brand partners on breakthrough innovations in retail marketing, while helping to develop the next generation of retail industry leaders," says L. David Mounts, CEO of Inmar.
The Center will operate year-round with its kick-off planned to coincide with the annual Marketing Summit, a signature event hosted by Wake Forest University Schools of Business. Now in its 22nd year, the Marketing Summit will be held Feb. 16-18, 2012. The new Center will also host a symposium, workshops and an annual conference later in 2012. There will also be ongoing communications, such as blogs, articles, faculty research and an idea exchange.
Roger Beahm, visiting professor of practice at Wake Forest Schools of Business, will serve as the Center's Executive Director, overseeing program and corporate participation. Sheri Bridges, Ph.D., associate professor of marketing, will serve as Faculty Director, spearheading curriculum development and research. The Schools of Business faculty bring their knowledge and understanding of analytics, Six Sigma, supply chain and expertise in marketing, as a cornerstone of the Center.
For more information, please visit www.facebook.com/WFUCVDI.