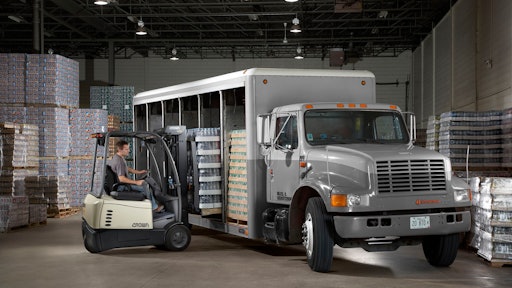 WAREHOUSING STATUS REPORT
LIFT TRUCK LEASING
Forklifts are the true workhorses of any busy warehouse—and having a reliable lift truck fleet is essential in today's busy food distribution centers. Losing a lift truck for a day could prevent you from fulfilling an order for an important customer. Considering that the average lift truck is more than 12 years old, it's likely that many companies are experiencing downtime due to forklift mishaps.
While it may not be financially feasible to buy a fleet of new lift trucks—or even a few—leasing is a viable alternative to purchasing. Leasing enables grocery and foodservice distributors to acquire new and modern lift trucks without tying up a significant amount of capital. Payments are typically fixed for the term of the lease and as inflation occurs, payments remain the same, so companies receive more value for their dollar. It can also simplify budgeting, because companies will know what that equipment will cost over the term of the lease.
However, there are concerns when it comes to leasing a lift truck fleet—to a first time leaser, it might be a tough decision as it fundamentally changes the way a company does business. But lift truck leasing is a growing trend in the food industry, according to industry experts.
"Five years ago, there wasn't an interest in leasing lift trucks, but the trend has been toward leasing." says Tina Goodwin, director of financial services of Yale Materials Handling Corp., Greenville, NC.
"The majority of our foodservice distribution customers lease their lift truck fleet and an ever increasing number of our customers are now choosing to lease their equipment," states Eric Gabriel, manager of fleet operations and financial merchandising at Houston-based Mitsubishi Caterpillar Forklift America Inc. (MCFA). "Over the past five years, leasing has steadily increased as a percentage of our overall business."
Wes Oda, national accounts manager of Toyota Financial Services Corp., Torrance, CA, also notes the increasing interest in leasing. "Companies are looking for ways to leverage their costs and leasing allows companies to do that," he says.
Not all experts are seeing the same trend. "While a significant number of our food service customers lease their Crown forklifts, we have not seen a noticeable increase in this option," says John Tate, senior vice president of Crown Equipment Corp., New Bremen, OH. "The down economy impacted investment in forklifts overall as opposed to a shift in the form of payment."
Benefits Abound
The rise in popularity of leasing is due to the amount of benefits it offers. "The primary reason to lease is to optimize the economic life of the equipment," says Gabriel. "Our job is to help our customers gain a better understanding of what the optimum economic useful life is for their forklift of forklift fleet."
"With owning, companies tend to keep the lift trucks longer than they should," Goodwin adds.
Not having to list the lift trucks as an asset on the books is another plus. "If you lease, you don't own the equipment, so you don't have to show it on your assets," says Goodwin. "However, that may change in the future."
That's because the Federal Accounting Standards Advisory Board (FASAB), a Washington-based agency that develops accounting standards, is expected to change the rules governing leasing to conform to international standards—which would make lease transactions transparent on the balance sheet. The ruling is expected to have the biggest impact on large ticket transactions. "Decision makers must keep a close eye on the pending changes to the leasing rules. We're anticipating a final decision from the FASAB as soon as 2012," says Tate.
"Leasing offers built-in flexibility," says Bill Buckhout, sales and marketing manager for Raymond Leasing Corp., Greene, NY. "Leases can offer freedom to locate, the capability to change the use characteristics, [and] the ability to return unused equipment."
Leasing also allows companies to keep trucks only in the early years when they are most productive and then send them packing when they start to wear out. "When you lease you're able to turn in the asset before the maintenance cost begins to increase," says Oda. "And you can customize the lease term to your operating hours so that you balance the cost to maintain the asset."
A major benefit of leasing is being able to get vehicles with the latest technologies—without laying out the cash. "Companies that regularly upgrade equipment due to changing operational demands typically value a leasing option because of the ability to capitalize on new products and technology," says Gabriel.
"There's changing technologies on forklifts and you're not tied in if you are leasing; you are able to take advantage of the term of the lease and acquire new technology as it becomes available," says Oda.
And when it's time to dispose of your lift trucks at the end of its useful life, the leasing company takes care of that for you.
Most importantly, leasing allows grocery and foodservice distributors to focus on their number one priority—serving their customers. "The biggest benefit to leasing is that it keeps the distributor focused on their core competency and out of the lift truck businesses, so they can do what they do best," says David Morzella, warehouse product sales manager of Toyota Material Handling USA, Irvine, CA.
Types Of Leases
Financial companies offer many types of leasing programs to suit your needs—the trick is finding the right program for your business. Most leasing companies, such Toyota Financial Services, typically offer operating leases, purchase option leases, retail installment, loan and deflects leases with multiple terms and they're offered to meet the varied customer demands and requirements.
When looking for the right leasing package for your business, companies such as Raymond offer different lengths of terms to fit your needs. "Raymond Leasing offers terms up to and beyond 84 months, which is somewhat unusual," says Buckhout. "We have terms for as little as 12 months for those high-cycle applications."
In addition to the right leasing terms, including a good maintenance package will help you get the most out of your lease. "Customers that choose to lease often prefer the cost certainty that comes with this decision," states Tate. "Specifically, they will purchase a maintenance component as part of the lease so those costs are not variable during the term. Local service helps ensure the integrity of the maintenance as well as limit shipping costs of the forklift."
Goodwin states you are "always guaranteed to have the latest and greatest equipment" when choosing a leasing optio
Some experts believe there's an advantage to leasing lift trucks that work in cold storage areas. "It's better to lease in a harsh environment such as a refrigerated or freezer application," says MCFA's Gabriel. "Although these harsh applications can create some challenges, we can structure a lease that is tailored to the customer's specific application and annual usage that will maximize the economic life of the equipment."
"When the Crown credit team evaluates a lease request, it evaluates the environment where the forklift will operate," says Tate. "This evaluation, in addition to extensive experience in the area, helps us establish an accurate residual value and predict maintenance costs. In refrigerated and freezer warehouses, the harsh environments do impact the overall lease cost."
To make the most out of your lease, experts recommend that you work closely with your lease company. "In most instances, the most advantageous path is working with a single-source provider that can bring single invoicing, consistent maintenance and flexibility during or at the end of the lease," says Tate.
Buckhout agrees and adds an idea of awareness: "Identify any use issues you have encountered. Understanding the policies and procedures of the leasing company you're working with; understand overuse charges, understand your end of term options, understand what flexibility is built into the lease."
"Making a large equipment purchase is never an easy decision," states Gabriel. "Companies need to take the time to research and analyze their operation and they will see there are numerous options available that will help keep their business running."
"We take the time to sit down with customers to come up with the most beneficial plan. One size doesn't fit all," concludes Goodwin.
Is Leasing Right For You?
To determine if leasing is right for your business, grocery and foodservice distributors must start at their balance sheet, says John Tate of Crown Equipment Corp., adding "It's a decision that requires long-term planning and evaluation of the total forklift experience."
"Leasing is preferred for companies interested in operating lift trucks without the responsibility and cost of full ownership," says Eric Gabriel of Mitsubishi Caterpillar Forklift America Inc. "Maintenance, customer service and installation costs are often included in the lease, making the option ideal for businesses with large fleets that pay for these services separately."
Even though leasing is a viable option for large fleets, it's beneficial for small fleets, according to Tina Goodwin of Yale Materials Handling Corp.
Before making a decision as to whether to lease or not, take into account these benefits that Yale and Hyster have to offer:
Preserves working capital: Without the large capital outlay of a purchase, cash may be strategically re-invested into your business. Credit lines may also be saved for other operating needs.
Predictable and affordable payments: Lease payments can be structured to meet cash flow needs.
Overcome budget restrictions: Leasing may help you overcome capital budgeting restrictions and lengthy approval processes. Also, it may accelerate the process of getting you the equipment you need today.
Customized structures: Leasing companies offer tailored financing options such as deferred payments, payments matched to use or the seasonal nature of your business. Lease terms can also be matched to project length. A variety of end of lease options are also available, such as renewal, purchase or return.
Upgrade with ease: Leasing provides you the flexibility to upgrade and add-on as your business grows, while maintaining affordability. It may also allow you to re-deploy assets when the need arises.
Master lease: A master lease streamlines the acquisition of current and future trucks. Through this option, lease documents are reviewed and executed once, then all on-going purchases are added to the lease by simply completing a schedule.
A single source for financing: Your entire acquisition may be bundled into one easy monthly payment. This may eliminate the need to pay multiple invoices each month, thereby reducing overhead.
Cost management: Leasing should allow you to invest your cash at a higher rate of return, thereby increasing profit margins.
Companies in this article