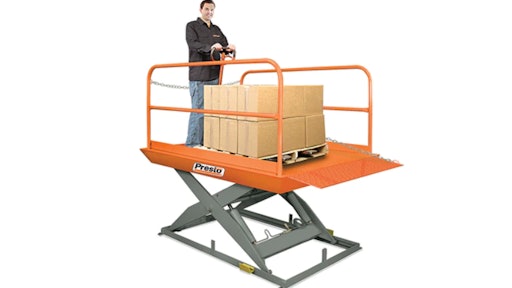 Presto ECOA
Presto ECOA hopes to target warehouses with the need for flexibility with a new line of scissor dock lifts, called its PDL Series Loading Dock Scissor lifts, that can handle moving loads from any truck bed height to up to 59" high loading docks. The lift platform is always level, which allows for transferring safely throughout a wide range of configuration possibilities.  
Per MHI News: 
Because the lift platform is always level, transferring between truck beds and docks can be easier and safer than ramps or other incline devices. Standard units are available in 5,000 lbs. and 6,000 lbs. capacities with roll-over capacity of 10,000 lbs. Base and leg sets feature a corrosion-resistant, galvanized finish.

Lifts can be installed to accommodate any dock or loading configuration, whether the truck is parked perpendicular or parallel to the dock. Units are typically mounted in a concrete pit so they lower to grade level, which can be useful for facilities that have no loading dock at all.