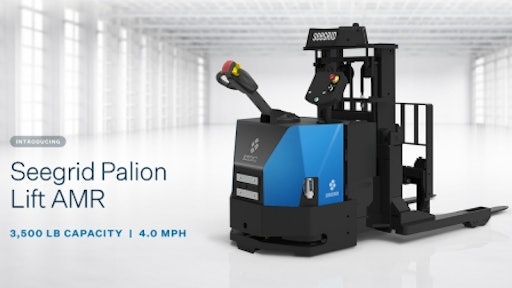 Seegrid Corporation
Seegrid Corporation introduced a new autonomous lift truck, further expanding its fleet of mobile robotics solutions.
The Palion Lift AMR automates the movement of palletized goods in manufacturing, warehousing and logistics, and joins the company's previously released Seegrid Palion AMR.
"We're proud to continue to both expand and strengthen our AMR portfolio and help our customers take their fleet to the next level with our new Palion Lift AMR," says Jim Rock, Seegrid's CEO. "Adding lift to our strong line of horizontal products is a capability most requested by our customers. The expansion of our industry leading Palion AMR fleet introduces new automated workflows for manufacturing, e-commerce and logistics companies that need proven end-to-end automation solutions. We're committed to continue transforming the supply chain by delivering intelligent, enterprise-grade mobile robot and software solutions."
From Seegrid Corporation
Seegrid

Palion AMRs address major supply chain challenges thanks to the company's proprietary navigation technology.
Palion Lift uses cameras, sophisticated algorithms and machine learning to safely and reliably navigate in dynamic environments alongside human co-workers.
Palion Lift is designed especially for companies that require an automation solution that can haul payloads from one point to another, placing them at heights of up to six feet with little or no changes to their facilities.