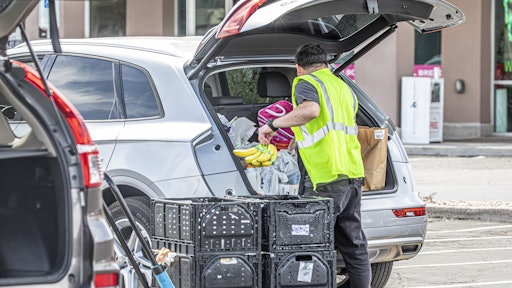 4 Pete's Sake - stock.adobe.com
The U.S. online grocery market posted $7.2 billion in total sales, down 7% compared to last year, according to the latest monthly Brick Meets Click/Mercatus Grocery Shopping Survey. This month's downtrend was seen across all three receiving methods (delivery, pickup and ship to home) and was driven by a pullback in order frequency and constrained spending per order, despite a larger base of monthly active users (MAUs) than the prior year.
"July's results reflect the growing financial challenges many consumers are facing today," says David Bishop, partner at Brick Meets Click. "These challenges along with evolving expectations, driven by experience engaging with mass, are contributing to the growing gap between conventional grocers and their mass rivals."
"To drive continued engagement, regional grocers need to offer their customers value for their money and more convenient ways they can save, such as encouraging repeat purchases with promotional offers and easy-to-use digital coupons," says Sylvain Perrier, president and CEO, Mercatus. "Loyalty programs should be thoughtfully integrated so that rewards are easily accessed and prominently positioned to remind customers of the monetary value they're receiving."
From Brick Meets Click:
For July,

U.S. households that bought groceries online increased nearly 5% vs. last year. This growth was driven by a more than 7% increase in the pickup MAU base, while ship-to-home's base remained flat and delivery's contracted 1% compared to July 2022.

Brick Meets Click




Order frequency, which dropped 10% vs. last year, was the main contributor to the monthly sales decline, reducing the total number of online orders by nearly 6% for July.

Constrained spending in July was the other major factor impacting overall sales results. The average order value (AOV) slipped approximately 1.5% vs. July 2022. Delivery climbed less than .5%, and ship-to-home, with the smallest AOV, posted a 1% gain year-over-year.

The share of sales shifted vs. last year. Pickup and ship-to-home expanded, while delivery contracted.