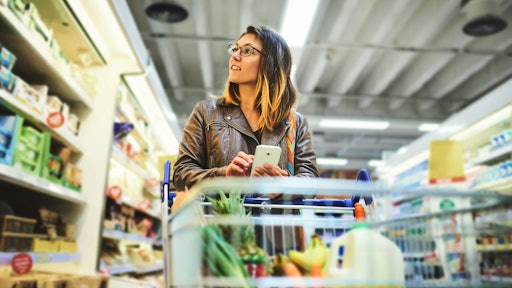 Getty Images
Global shopper research highlights a stark and rapid decline in online grocery shopping behavior, making business agility more imperative than ever. In fact, more than half (52%) of e-commerce grocery shoppers left the online channel over the last year, according to research from SymphonyAI Retail CPG. Further analysis of those lapsed customers reveals that while 60% are reverting to the retailer's brick-and-mortar location, 40% have left the retailer altogether.
"The overall decline in online customers and their impact on e-commerce growth is significant," says Laetitia Berthier, head of client engagement, SymphonyAI Retail CPG. "Contrary to expectations, the losses are coming not from shoppers who were forced online during the height of the pandemic, but rather those shoppers who had moved online after the pandemic. It's critical for retailers to understand those customer dynamics and their fast-changing needs to succeed in the critical online channel."
From BusinessWire:
The loss of former online customers has had significant impact on e-commerce revenue growth, according to the proprietary research. While total online revenue growth only dipped by 1% in Q1 2023 compared to Q1 2022, buffered in part by inflation, the study showed a 14% net decline in the total number of online shoppers (departing shoppers offset by new shoppers).
The research shows lost online customers that did revert to the brick-and-mortar location had a reduction in overall spend by 16%, indicating they are fulfilling their grocery needs elsewhere.
Shoppers who buy groceries online and in-store, deemed omnichannel shoppers, have become the most important customers to retailers, the study finds. More than 71% of online households in Q1 2023 were considered omnichannel households, and they are actively growing sales for the retailer.
Customers who formerly shopped only in-store and who subsequently became omnichannel shoppers delivered 15-18% in incremental sales over the last three years for retailers and purchase a basket size that is 9% higher than that of strictly in-store shoppers.
Interestingly, more than eight in 10 in-store shoppers have not used e-commerce for grocery shopping over the past five years, meaning retailers still have an opportunity to grow an omnichannel shopping base.