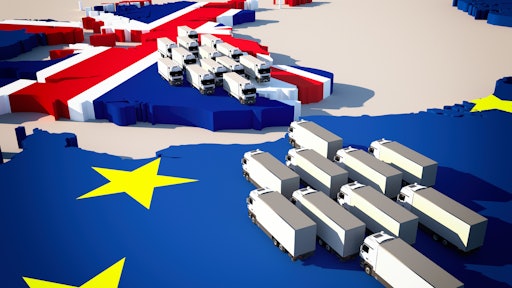 brainwashed 4 you/Adobe Stock
British Corner Shop, an online grocery retailer, opens a new warehouse outside of the U.K. to better serve its European customers outside of the U.K. The e-commerce platform saw an increase in demand throughout all of Europe, but because of Brexit, it has been difficult to effectively meet that demand. The distribution center is 125,000 square feet and is the retailer's first in Europe outside of the U.K. 
Per  British Corner Shop: 
The facility is equipped to hold an extensive selection of produce, with many items available that are not currently readily accessible in other supermarkets across Europe.
The opening of the new warehouse comes as the grocery store looks to combat the challenging effects that new import laws have had on the food and beverage industry. Having had to significantly reduce the product range available to EU customers throughout the Brexit transition period, the opening of the new European warehouse means that the retailer is once again able to resume the excellent service that its EU customers have become accustomed to.
The retailer, which currently has 2,000 products from Britain's most loved brands available to EU destinations, has seen a surge in online retailing over the course of the last year, particularly as the recent Covid-19 pandemic has meant that many Brits have been left unable to travel back to the UK for extensive periods of time. The retailer believes that its European presence will support the company's efforts to meet increased demands for British products within the global Expat community.