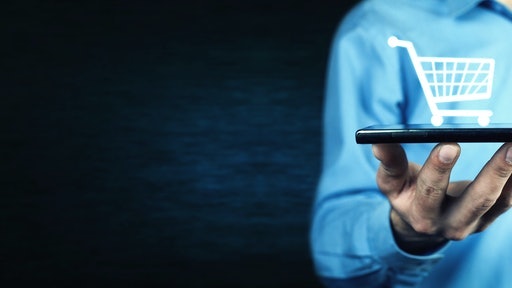 Getty Images
The U.S. online grocery market posted $7 billion in sales during May, down 16% vs. a year ago, according to a Brick Meets Click/Mercatus Grocery Shopping Survey.
The drop in sales was driven by declines in several key performance indicators, including monthly active users, order frequency and average order value. However, total online sales in May remained 3.5 times higher than pre-COVID-19 levels.
"As the business laps very tough year-over-year comparisons, it is essential to put monthly performance into perspective and keep an eye on the big picture," says David Bishop, partner, Brick Meets Click. "May's results show the market retains 70% of the incremental gains generated versus the record COVID high of $9.3 billion, illustrating that much of the gain propelled by the pandemic has stuck around."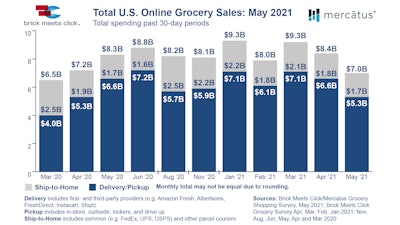 From Brick Meets Click:
Monthly active users placed an average of 2.80 online orders during May 2021, down slightly from the record high of 2.91 orders set one year ago.

The May 2021 results revealed that nearly 30% of monthly active users received online orders only via pickup; another 17% received online orders only via delivery.

In May, the share of online customers who used both a grocery service and a mass

retail service to buy groceries during the month climbed to a new high of 29% vs. 15% pre-COVID-19.
"May's choppiness in online sales is to be expected as the country opens, and consumers shift spending to things like travel and food away from home," says Sylvain Perrier, president and CEO, Mercatus. "It's more important than ever that regional grocers focus on strengthening their competitive positioning and improving the customer experience. Retailers would benefit from segmenting their online shopper base, knowing their preferences and interests, and taking advantage of solutions that help personalize the experience and lead to larger baskets."