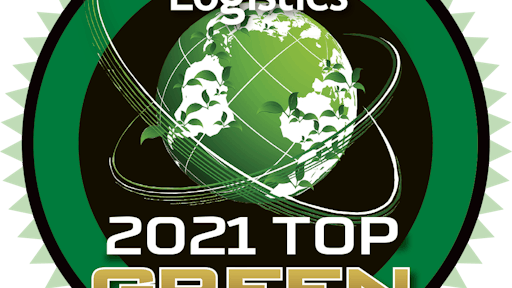 When the Coronavirus disease (COVID-19) pandemic first began in March 2020, the Food Logistics staff thought that companies would put their sustainability initiatives on the backburner in order to better fight the virus. But, the opposite happened. Throughout this last year, companies have been moving sustainability to the top of their to-do lists, and the efforts are changing the supply chain industry for the better.
The Food Logistics Top Green Providers award recognizes third-party logistics (3PL) providers, transportation providers, cold storage providers, technology companies and more whose products, services or exemplary leadership enhances sustainability within the cold food and beverage industry.
"People's values are increasingly becoming infused in their shopping habits as consumers think more about balancing what they buy and how they spend their time with global issues of sustainability," Jill Standish, senior managing director and head of Accenture, said in a press release. "This calls for retailers to be authentic and to pay attention to what each community they serve really cares about. It is no longer enough for brands to just talk about responsibility; they need to adopt environmental, social and governance (ESG) practices, harnessing technology to drive outcomes across their entire operations, from building more sustainable supply chains to equipping the workforce for a new environment."
The pandemic has changed the way consumers view sustainability now. According to the Accenture study, two-thirds (65%) of consumers believe that the government should introduce legislation to promote "conscious consumption," such as charging for plastic bags (go to page __ to learn more about sustainable packaging trends and solutions). The report also found that 69% of consumers believe consumer brands should make it easier to consume more consciously.
Still, 37% of food waste comes from within our own homes, Andy Harig, VP of tax, trade, sustainability and policy development at FMI-The Food Industry Association, said during an episode of a L.I.N.K. podcast.
"If you look at sort of consumer-facing businesses, food retail and restaurants are about 28% of the total food waste, manufacturing about 14%. Farms represent about 20% total of the food loss in the United States. So, it's really important that each of those sectors addresses their issues, which are unique to each sector. It's also important that the whole supply chain, farm to fork, addresses the issue broadly and finds partnerships and ways to work together to address the issue," Harig explains.
Meanwhile, J.B. Hunt Transport Services partnered with the University of Arkansas in December 2020 to increase awareness in transportation and logistics, exploring new sustainable solutions to address current and potential industry challenges. The company's Sustainable Supply Chain Management Research, Innovation and Education fund will help support educational pursuits that pertain to sustainable business practices.
Furthermore, several states have agreed to participate in the Transportation & Climate Initiative Program (TCI), a cap-and-invest plan that aims to modernize transportation in the Northeast and Mid-Atlantic region. The program aims to reduce carbon pollution and provide critical funding for transportation solutions in urban, suburban and rural areas.
Even in a post-COVID-19 world, companies will continue to prioritize sustainability. These practices all help companies to better prepare for the future – whatever that may entail.
So, congratulations to the 2021 Top Green Providers award winners. This year's champions strive to become sustainable leaders and help better the industry. Here are a few standouts.
To view the full list of winners, please click here.
Alliance.com
Alliance Shippers is committed to reducing its impact on the environment. The company has reduced its carbon footprint by adding new EverGreen refrigeration units to its fleet that are CARB compliant for the lifecycle of the refrigeration unit. Meanwhile, its refrigerated trailers and containers are equipped with two-way cellular tracking devices, allowing for Alliance Shippers to have a GPS location on its assets and monitor temperatures, check for fuel levels and turn the refrigeration unit on and off at any time. The company also manages the run time on units at customer pool locations to control operating expenses and reduce carbon emissions while optimizing asset utilization to increase capacity. In addition, Alliance Shippers has been a SmartWay Participant Provider since 2006, and is one of 62 companies to be honored with a SmartWay Excellence Award for the U.S. Environmental Protection Agency.
Autostoresystem.com
AutoStore provides the cold food and beverage industry with technology that is sustainably designed and revamps the outdated retail supply chain system. Customers are able to obtain measurable sustainability goals more quickly within their operations as each robot uses minimal energy, providing a greener operation for all uses. Traditional food and beverage warehouse designs are constructed with a focus on aisles, lighting and environmental settings for human comfortability. In addition, the company helps customers reduce carbon emissions by allowing them to stay in their buildings and customizing existing warehouses to fit their needs.
Beveragedestructionservice.com
Since first opening in 2016, Beverage Destruction Service Inc. (BDSI) is proud to be a green company that provides service to over 40 companies. The company has a place for everything – broken pieces of wood from pallets go into a collection box, cardboard and PET plastic, shrink wrap and film, glass, aluminum and others all have a collection point. BDSI provides a solution that is customized for the beverage industry, enabling companies to drop off expired and damaged beverages from 8 a.m. -5 p.m. on weekdays. The company de-packaged products and processes the liquids to the specifications of its county. All shipping and packaging materials are recycled to avoid landfills. BDSI takes pride in providing responsive green solutions for its clients, and in the future, plans to affiliate with a local digester to enable the calories from beverages to positively impact the methane output and provide energy solutions for years to come.
Choptanktransport.com
Choptank Transport is always looking for ways to improve its sustainability initiatives. The company has created its own proprietary software system, Orbit TI, enabling shippers and carriers to have full visibility and transparency into the loads they ship with Choptank. The real-time tracking formation helps products move through the cold chain more efficiently, with fewer errors and damage. The software also alerts drivers and Choptank's operations team when there is an issue with the shipment, allowing for the problem to quickly be solved, therefore, reducing any potential food waste.
Ctlogistics.com
Throughout 2020, CT Logistics invested in software developments that provides shippers with the tools to make more sustainable choices within their supply chains. The FreitRater Lion software, for example, helps shippers drive energy efficiency with supply chain routing analysis technologies, maximizing lane effectiveness and allows CT Logistics to facilitate more optimal/greener transportation mode selections for shipping.
Fleetadvantage.com
Fleet Advantage continues to promote sustainability by using its software solutions to optimize vehicle specification to be more fuel efficient and align with the duty cycle and geographical locale. The solution also allows for lighter components, creating longer maintenance intervals, reducing environmental hazmat waste disposal. Fleet Advantage helps customers by providing a solution that manages their assets easier while promoting green supply chain initiatives. The company's solution conserves fuel resources, reduces emissions, reduces hazmat waste, lowers costs and provides a cleaner environment as part of their supply chain strategy.
Libertycold.com
Liberty Cold is proud to be a landfill-free facility. Less than 1% of all waste accumulated at its facility ends up in a landfill and is audited on an annual basis. The company utilizes a waste tracker program to monitor its waste stream consumption. The data is monitored monthly and audited annually and includes waste stream information, amount of waste generated, amount removed from and entering into landfills and more. In addition, Liberty Cold is in the process of becoming a SmartWay Partner.
Optricity.com
Optricity works with over 150 companies around the globe, many of which have policies that require and/or encourage vendors to work toward sustainability. Additionally, Optricity promotes environment-conscious decision-making and environmentally friendly in-office practices, like recycling and minimizing the use of plastics and paper. Leadership also provides products to support sustainable habits, including refillable water bottles, reusable straw sets, etc. for each employee, and encourages (pre-pandemic and work from home) use of public transportation. Optricity's optimization, design and analysis software offerings work in tandem to deliver sustainable slotting. OptiSlot DC Software, Optricity's advanced slotting optimization solution, was originally built to serve the grocery industry, and has since evolved to address warehousing challenges of the food and beverage industry as a whole to minimize travel, picking and replenishment costs, enhance service readiness, increase productivity and provide improved pallet build quality. Optricity's Ease Warehousing Technologies Platform, which works hand-in-glove with OptiSlot to provide targeted product moves that keep operations in sync as product demand changes, while Optricity's Moves Conductor further supports sustainable slotting by implementing necessary slotting adjustments organically through the replenishment process in the WMS.
Parsyl.com
Parsyl helps companies understand their supply chains so they can achieve stronger supply chains. The company allows customers to collect and analyze comprehensive granular data about their supply chain at a scale by using smart sensors and cloud-based insights. With this software, customers can learn from every shipment, uncovering any weak points in order to better reduce waste and cost. With Parsyl, companies are able to achieve a new level of transparency and sustainability in their perishable supply chain and allow for them to take smarter risks.
Rlslogistics.com
RLS Logistics puts sustainability first by implementing energy management, LED lighting, solar and CO2 refrigerant system programs. Through this, the company optimizes energy-consuming equipment and systems to better reduce its energy footprint long-term. RLS Logistics actively works with its partnering regional operators to evaluate their current energy usage, strategies and discuss best practices to implement in order to achieve ultimate sustainable usage.
Romarklogistics.com
Over the last 60 years, Romark Logistics has been servicing the food and beverage industry. The company has prioritized environmental and sustainable initiatives, each year allocating significant resources to its programs and incorporating it in its organizational goals. Romark considers "green" to be a core commitment that not only benefits its employees and customers, but also the communities it serves. Romark has established a framework along with integrated tracking technology that monitors and measures sustainability programs to ensure it is complying with all relevant regulator requirements. In addition, the company's goal is to operate all locations as landfill- and carbon-free facilities.
Utilitytrailer.com
Utility Trailer Manufacutring has implemented numerous sustainable initiatives throughout the years that have had significant positive impacts on the industry. The company is actively contributing to reducing greenhouse gases, reducing waste to landfills, eliminating ozone emissions, recycling materials, reducing air emissions, waste and energy consumption. Utility Trailer Manufacturing began using Non-HFC foam "Solstice" because it does not incorporate strong greenhouse gases, ultimately reducing the impact on climate change. This new base specification of the Non-HFC Foam complies with requirements from those regions in North America that have imposed Non-HFC foam requirements.
West Liberty Foods is known for paving the way in sustainability efforts and has a core team at each facility that works to reduce its usage of water, electricity, natural gas, paper, cardboard, plastic and more. As a landfill-free company, West Liberty Foods is audited annually to maintain its status. The company reports its sustainability efforts and achievements through a corporate sustainability report and continues to engage itself with customers, partners and vendors to help reach its sustainability goals and achievements.
To view the full list of winners, please click here.