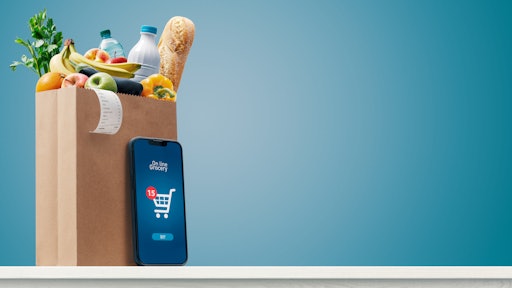 stokkete AdobeStock_506184891
Most companies associate personalization with advertising, but it's much broader than that. In the grocery industry, national chains might dominate the market, but local grocers are discovering the possibilities for personalization in e-commerce to stay competitive. Product digitization, delivery options, and online customer service are all being utilized by savvy grocers as personalization tactics to deepen the buyer/seller relationship.
By using personalization effectively, grocery stores can create a more convenient shopping experience, ultimately improving customer relationships and retention. In fact, in one survey, nearly 90% of customers say they prioritized the experience a company provided as much as its product or service. Shoppers also felt better towards brands when they felt their personal needs were understood and met as part of that experience.
However, personalization won't create the connection with customers that grocers are looking for until they think about the entire consumer shopping journey as an omnichannel experience—with the physical and digital combined.
Utilize your point-of-sale
Despite the boom in the last few years of online sales, 86% of grocery retailers say they are dissatisfied with the profitability of their online operations. It's a dissatisfaction that's being compounded by a return to in-store shopping occurring post-pandemic.
Very few shoppers, especially for groceries and food, rarely order exclusively from one store. On average, shoppers utilize three stores around their neighborhood based on convenience, promotions, selection, and taste. That's why grocers must give as much consideration to the digital part of their customer's journey as they've done in the past with physical circulars.
For instance, rather than just a distributed printed circular with the discounts and specials for that week or month, stores now need to consider a digital distribution for these specials also. Coupons and circulars delivered via email or available via a store's mobile app are common ways for retailers to try and link online and offline experiences, but the question is how effectively is this omnichannel marketing being delivered.
Marketing campaigns around holidays offer the opportunity for mass personalization, and coupons based on previous shopping provide individual personalization. Yet, although regional supermarket chains have done considerable amounts to offer personalization for their physical stores, they are still behind in entering e-commerce. The majority of local grocers haven't had the technological resources compared with national chains to provide the optimized omnichannel personalizations 84% of customers have come to expect.
In this case, point-of-sale (POS) system data can be used to create the unified and consistent experience needed for omnichannel engagement. Many groceries have vast purchase data via their POS system from their primary personalization tool: a loyalty or rewards program. So, the first step is for groceries to integrate with their existing POS and rewards system to begin expanding into the digital domain.
Embrace multiple data points
If personalization is going to work, local grocers need to first cultivate a sense of connection to then benefit from it. Particularly if they are to compete with the addition of non-traditional grocers and mass merchandisers entering the e-grocery marketplace. Just like fast-fashion and e-tailers have eradicated local shops on the main street, a similar trend can follow for local grocers if left unchecked—time for local grocers to step-up.
Due to the broad nature of personalization, with many variables, often that are also stochastic, quantifying personalization key performance indicators (KPIs) is elusive. For groceries that operate in both physical and digital space, it is more difficult to find apples-apples variable that you can compare to. This is because the local market landscape and customer base can often be too different, like a New York City grocery vs. a Boise, Idaho, grocer, for instance.
It's a complex, not linear, system. As such, it's not easy to identify which marketing efforts, whether it's mail or email, actually contributed to the sale without a more sophisticated system in place. The complexity of the system also means you cannot rely on marketing metrics from a non-local competitor. Stores should strive to utilize their own data in order to produce analytical insights actually relevant to them.
And there is a lot of data out there for stores to capitalize on. The latest studies show the market for grocery shopping online is going strong at 12%-14%. That's up considerably from 2% before the pandemic and healthy in comparison with 27% for e-commerce in general, spurred on by the introduction of convenient same-day delivery, curbside pickup, and shipping options.
However, the gap between large national chains and local grocers is large. Like David and Goliath, one has access to sophisticated technology and finance resources, like the capital market, and one doesn't. Since local grocers have managed lower online grocery penetration compared to national chains, without better data infrastructure in place, they have to compete purely on prices.
Combining store and digital shopping data with contextual, macroeconomic, and locational data will help smaller stores and e-grocers think smart. Only then will they be able to get creative when it comes to constructing an omnichannel marketing experience that attracts and retains customers long-term.
Leverage variables for hyper-segmentation
One statistic is that e-grocery basket size is on average around three times larger than their store-checkout basket size, usually due to the free delivery associated with orders above $75. The flip side is that if that shoppers who usually buy $30 from your store shops at your competitor online for $75, they may not be shopping more at your store in the short term. Since shoppers have a limited food budget, the need for continuous omnichannel engagement with customers is vital for grocers to stay ahead of competitors. While personalization helps to target customers with the right product at the right time and increase the likelihood of a repeat customer, it's also good to remember personalization does not necessarily mean hyper-individualized one-to-one marketing.
Although the cost is coming down, one-to-one marketing still requires more costly data and analytics than mass personalization. As a cost-effective alternative, customer segmentations can be continually refined until stores find the market niches they can bring value to. For instance, if a segment of customers prefers a low price, then grocers can "personalize" an offering to promote discounts or private-brand items.
This is how smart and creative personalization will achieve higher sales. For groceries that are both physical and digital, they need to pinpoint which variables are most important to their local market and core customer base. Grocers can then leverage these variables for maximum return on investment (ROI).
Grocers need to remember getting to know their customers can mean more than costly one-to-one marketing techniques. Instead, stores can employ under-utilized digital data from their POS systems and loyalty and rewards programs to hyper-segment customers. This equally effective type of personalization will help them stay competitive by providing tailored, omnichannel consumer experiences that heighten engagement and increase retention.