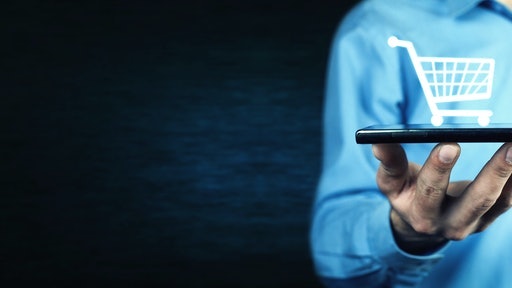 Getty Images
While the pandemic-induced economic downturn crippled many industries, online grocery profits boomed from $500 million on an average month in 2019 to $3.4 billion in June 2020. The pandemic created a juggernaut, raising questions over when digital grocery stores may surpass their brick-and-mortar counterparts.
However, a rise is often accompanied by a fall and online grocers can point their finger at inflation and America's gradual reopening. In July 2022, grocery prices soared 13% year over year, marking the sharpest one-year increase since 1979. As a result, over 90% of Americans are adopting a more fiscally conscious approach to food shopping. Accompanied by rising costs in pretty much every sector, Americans are reluctant to shop for food online so they can be more diligent in their spending and bypass additional service and delivery fees.
Now online grocery shopping is down 26% from its pandemic highs in 2022. While there isn't much digital grocery companies can do about the uncertain economy, investing in user experience (UX) upgrades can help stop the skid.
Inspire shoppers with the right (and most affordable) product recommendations
Inflated grocery prices are forcing shifts in consumer spending. While grocery shopping is a necessity, many consumers are looking for cheaper options and cutting out extras.
In fact, Quantum Matric's recent Retail Benchmarks Report found that high prices are driving consumers away from their preferred brands, with 53% of Americans opting for cheaper alternatives. Additionally, another report found one in three (33%) consumers are buying items in bulk in response to inflated grocery costs, and most are buying groceries less frequently. Online grocers must be responsive to these new sentiments and ensure the online customer experience is aligned with the new ways people want to shop.
They can start by creating a digital experience that mimics – and improves upon – the in-store shopping experience. For example, in-store grocery shopping provides a range of brands for each product next to one another in each aisle. If a shopper is browsing for pasta and notices their usual brand's price has shot up, they can find a cheaper alternative right next to it. Online grocery stores can replicate that experience by upgrading the "similar items" menu.
When a customer searches for their preferred brand, the similar items menu should be accessible and offer the opportunity to list cheaper alternatives first. The "shop similar" function could also present wholesale options for customers looking to buy in bulk to cut costs. Additionally, grocers can update their search functionality to make it easier for shoppers to discover more affordable brands. Suppose a shopper searched your website for a general item like granola bars. In that case, grocers can present cheaper options first, and also promote available coupons for products in that category. By enhancing the online shopping experience with tools that are reflective of growing price sensitivities, grocers can help customers shop smarter and keep them coming back.
Simplify the online shopping experience from start to finish
UX is vital to e-commerce success. Research shows that nearly half (49%) of online shoppers will buy elsewhere after only one poor experience, and most of these CX "hiccups" are user experience related. While online grocers may not be able to stop high prices from driving people away, they can prevent poor UX from doing the same.
The little things really do go a long way in the world of UX optimization. For example, a high functioning "your orders" menu allows customers to easily buy again in a few clicks, boosting customer retention. Additionally, online grocers can curb cart abandonment and drive revenue by streamlining login processes, simplifying search functionality and improving checkout processes.
Personalization is another critical step toward maintaining customer loyalty.
Adopt an omnichannel approach
Our research found that inflation has pushed three in four consumers to cut their spending significantly, and many now pre-plan their shopping. This presents an opportunity for grocers to adopt or expand their omnichannel approach that will allow consumers to shop however best fits their budget and demands.
Research shows that brands providing fully integrated omnichannel platforms retain 89% of customers. In the grocery sector, an omnichannel approach provides the ability to meet shoppers wherever they are: whether customers prefer the old-fashioned way of shopping in-store; browsing online and coming to the store knowing exactly what they want; ordering their products online and picking them up in-store; or buying their groceries online and having them delivered.
Instead of conceptualizing the online store as a separate entity, grocers should view their virtual store as an extension of the physical one. This also creates new revenue streams for grocers who can entice shoppers to experiment with all their different channels. For example, a grocer can offer a shopper a deal to use a curbside pick-up option, even though they typically opt for at-home delivery. Ahead of their pick-up time, the grocer could deliver an ad about the new seasonal products available in-store, compelling the shopper to come in and spend more. By synchronizing digital channels and physical grocery stores, grocers can return higher profits and retain more customers.
There is no magic spell online grocery can cast to ease their inflation-era woes. However, putting their best foot forward by optimizing user experience will help revive business and retain the millions of customers gained during the pandemic. Grocers can tune into consumer trends and align with new price sensitivities by enhancing website and app functionality, simplifying the user experience, and merging in-store and online experiences. Fostering the best possible UX will help online grocery weather the inflation storm and emerge even stronger when it passes.