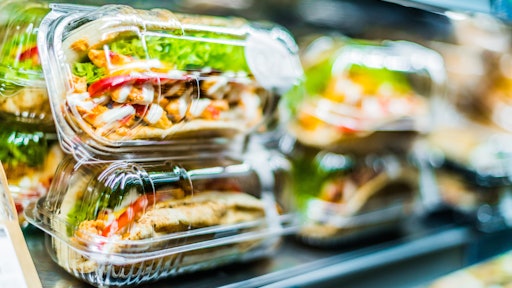 monticellllo - stock.adobe.com
With the current state of the supply chain, grocery retailers need alternative ways to prepare for potential food shortages. It is essential for retailers to find or create dependable ways to secure needed products, especially with logistical issues predicted to continue to occur. Technology is available that can provide the tools necessary to not only detect shortages, but also find personalized and region-specific replacements before stock becomes an issue. Action is just as important as detection, and with the right insights, potential problems become more easily addressable.
The Coronavirus disease (COVID-19) pandemic has undeniably had a significant impact on all aspects of the supply chain. Labor shortages, transportation delays and rising costs have caused ripple effects throughout the food industry, from sourcing of raw materials and manufacturing to retail and consumer-level purchasing and consumption. As a result, rapid-delivery and direct-to-consumer services have boomed in major cities, and online ordering has become commonplace.
Oddly, supply chain challenges have been juxtaposed by insatiable, ever-increasing consumer demand within the past two years. While retailers of all sizes are struggling to stock their shelves, customers continue to expect more from retailers in terms of both shopping experience and product assortment. Consumers are more fickle than ever, and new and old brands must respond to this change with continuous and rapid development of innovative products. Retailers that can quench every consumer desire and food trend, like clean label and locally-made, will outmatch the competition at every turn.
What retailers can't control
The supply chain has seen an unprecedented level of volatility over the last several years. Warehouses are short staffed, competition for labor and wages is heightened and logistics expenses are higher than ever. Traditional distributors are seeing the adverse effects of their outdated business methods and are feeling the heat from their tech-enabled counterparts.
Direct-to-consumer grocery delivery services have not only shaped how consumers shop online, but have also altered their expectations for purely brick-and-mortar and omnichannel retailers as well. Despite the current supply chain mayhem, consumers expect endless online assortments and fully stocked shelves. They want the right products and they want them instantly. If the products they're looking for aren't readily available at one retailer, they'll go searching at the next.
Store loyalty has declined. For example, a study conducted by Ipsos revealed that one in four consumers opt to shop outside of their primary retailer when their desired items are unavailable. In consequence, it is imperative that retailers have the ability to offer an expansive catalog to their customers and avoid persistent out-of-stocks whenever possible. To prevent these out-of-stocks, retailers must have access to an infinite selection of products that can be interchanged when shortages occur.
In the wake of clean label and diet-specific food trends, consumers have become increasingly particular in their choices as well. A consumer in need of high-protein, gluten-free frozen pizza won't settle for traditional frozen pizza if their favorite brand is out of stock. They rather leave empty-handed and try their luck at a different store (or order online for rapid delivery). Thus, retailers must be able to pivot quickly and provide a similar alternative on a dime.
What retailers can control
While retailers can expect continued impact by supply chain challenges, they do have the ability to decide which brands they use to stock their online and physical shelves, the company they choose as their distributor and the geographical areas from which they source their products.
Coincidentally, an increased consumer interest in locally-made products has coincided with an increase in gas prices and delays in international transportation. Retailers have the opportunity to leverage both to their advantage; by sourcing more local products, retailers can avoid out-of-stocks and lag time for replenishment while concurrently fulfilling consumer demand. Larger chains can also differentiate their many stores by offering location-specific items at each door and build customer loyalty by showcasing support for local businesses.
What makes an infinite shelf truly infinite
Now that the stage is set for what retailers can and can't control, where does foodtech of today come into play? While an infinite shelf solution that can provide retailers with access to a much broader array of SKUs that they can plug and play is a step in the right direction, it's not enough on its own. While the external supply chain may be unpredictable, retailers can use the data available right at their fingertips to be more responsive in their approach to purchasing and understanding where they need to focus their attention in stocking shelves.
Recommendation engines available now to grocery retailers ingest data already being collected by retailers such as purchases being made by customers and their wholesale purchasing cadence, and will recommend products that the retailer should be considering purchasing ahead of a potential shortage. Data is only as valuable as it is actionable, and the ability to anticipate shortages and purchase against them to mitigate empty shelves is truly the No. 1 way for retailers to take back control of their supply chain and build a more dynamic procurement model that works. Retailers who fall behind the curve and continue to solve their shortages with notices to customers apologizing for out of stock products will quickly fall behind in the market against their competitors who are going data-driven in their problem solving approach.
What retailers need to know in order to make the right decisions when looking to procurement more food, beverages and other consumer packaged goods (CPGs).
Tools or feedback protocols that tell when you're already out of a product doesn't give enough lead time to keep shelves consistently stocked.
Reporting tools that tell what your past purchasing habits are for products that consistently keep being out of stock provide some better ability to analyze trends.
Recommendation engines that take in all available information such as buying and selling metrics, as well as supply chain information such as inventory and lead times are the only true tools that will enable retail grocers to keep shelves constantly stocked.
In the face of rising competition and supply chain disruptions, retailers need to not only keep their shelves full but also understand their customers and offer the products they want.
Customer loyalties to retailers are rapidly declining with the increase in options such as rapid grocery delivery companies, e-commerce platforms and direct purchasing from their favorite brands.
Retailers must offer an enticing and personalized assortment to their target customers and speed to shelf is necessary to keep with purchasing patterns and trends and respond to product shortages.
The infinite warehouse allows a rotating selection of brands for any given product to be made available to the retailer.
The retailer can respond to supply chain disruptions to keep shelves full.
The retailer can continuously reset their product selection to optimize shelf space for the best brands and keep up with consumer trends.
Ultimately this allows the retailer to explore the concept of an infinite shelf where they can offer their consumers an assortment of products not limited by the physical shelf space.
Outdated supply chain technology needs to be revolutionized in order to allow retailers to respond quickly to the changes in the micro and macroeconomic future.
Using real-time data, brands and retailers can optimize their partnerships to account for supply and demand fluctuations.
Data transparency allows for greater visibility, faster decision making and shorter response time, which is crucial for growing a business of any size.
Machine learning allows for predictive analytics to fuel and accurate supply and demand recommendations.
Retailers need a dependable solution that identifies when shortages will begin and can keep up with shortages as they persist. Utilizing machine learning technology, these solutions should identify right away which products will need restocking well before they run low. Retailers get an optimized platform, that considers buying patterns and recommends similar products to be on shelves when out of stocks occur.
Personalized options are available for grocery retailers that are able to target and provide solutions to a range of issues as they arise. It is also important for retailers to have access to information that these resources provide, insights and alternative items available. The supply chain continues to be unreliable, but with a solution that allows retailers to be proactive in decision making, empty shelves can be a problem of the past.