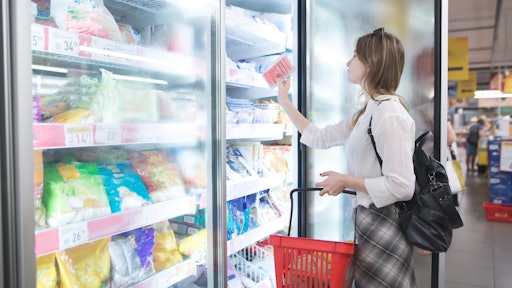 bodnarphoto - stock.adobe.com
Today's grocery retail market remains in flux as the pandemic outlook evolves and unexpected global events impact the U.S. economy and consumer demand. Looking at 2022 so far, inflation rates are worse than anticipated and will likely remain in place longer than initially predicted. Rising prices, compounded by pronounced, ongoing labor shortages, are forcing many grocery retailers to adjust sales and marketing strategies in accordance with changing consumer demand. Here are four trends that should be top of mind for grocery retailers looking to increase profitability and efficiency in today's market.
1. Brand loyalty
According to a recent study, about one-third of U.S. consumers say they are worse off financially than they were before the pandemic began. Meanwhile, with inflation at a 40-year high, grocery retailers are continuing to raise product prices in order to offset commodity and expense increases. The resulting strain on customers' resources is driving different decision outcomes among shoppers.
To adapt, many grocery retailers are now focused on bringing smaller (inexpensive and domestically produced) brands into stores as a short-term method of filling shelves. Increasingly, price-conscious shoppers are willing to purchase these cost-friendly or private label products instead of sticking with their less affordable brands of choice. Strong consumer demand and repeat purchases will indicate whether lower-priced alternatives earn shelf space in the long term.
Additionally, innovation within the grocery industry has decreased significantly since the onset of the Coronavirus disease (COVID-19), with retailers focusing heavily on keeping items in-stock to fulfill shoppers' need. As the pandemic outlook brightens, retailers will need to focus on finding new ways of improving the in-store experience for consumers, while also deciding which products will best fit shoppers' preferences and budgets.
In the coming months, it will be critical for retailers to determine whether the expanded product assortment wins over traditional brand loyalty. Minding this trend will be critical in informing future strategies for acquiring and retaining in-store customers.
2. Channel optimization
Looking at the market from a shorter-term perspective, as supply chain issues and out-of-stock items continue to create obstacles for retailers, shoppers' preference for lower-priced brands will likely remain high. This means, each time a shopper cannot find a product in-store fitting their needs and budget, retailers risk losing that shopper's business in the future.
With product prices rising, many grocery retailers are rolling out promotional price points and offers fitting consumer needs. As this trend expands among retailers, media spend optimization will become a major priority with retailers sharpening their focus on digital commerce as a key sales channel.
Since the onset of the pandemic, as consumers have steadily shifted to online grocery delivery and curbside pickup, retailers have expanded their efforts to reach omnichannel shoppers.
According to a custom client survey from April 2021, consumer packaged goods (CPG) retailers are shifting funds to support digital commerce trends There is no doubt that the value of omnichannel grocery shoppers is continuing to grow at a rapid pace and retailers' focus will shift accordingly, with the optimization of e-commerce channels becoming a top financial priority with focus on how to make this channel profitable.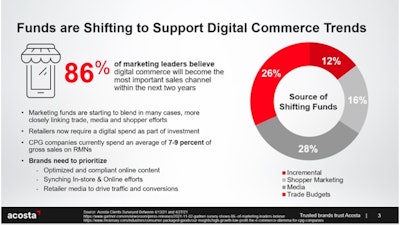 3. Ultra-fast delivery options
Ultra-fast delivery has also been an increasingly important consideration for retailers since the pandemic began. Global lockdowns and social distancing restrictions beginning in 2020 peaked consumer interest in easy and convenient delivery services and this trend is almost certainly here to stay.
Shopper research conducted in February found over half of today's shoppers regularly place orders online using ultra-fast delivery, with 29% doing so at least once a week.
As quick delivery expands in many categories, particularly beverages, grocery retailers must keep pace by implementing long-term solutions. Major chains are adapting by forming partnerships with top delivery services.
4. Automation
The effects of current labor shortages make automation a feasible and appealing option for retailers looking to win omnichannel shoppers. Predictions indicate dark store growth will continue to facilitate efficient and profitable delivery and pickup for retailers.
Recently, in addition to implementing robotic technology in-stores, grocery chains have started leveraging robotics that can handle bulk orders. In fact, leading grocery chains are now rolling out high-tech fulfillment centers with robots able to assist in fulfilling thousands of orders a week.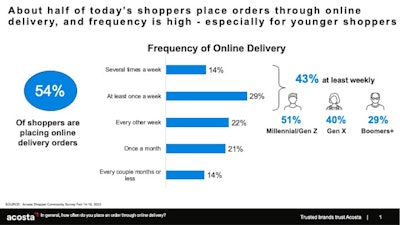 On a smaller scale, more retailers are implementing the use of smart lockers in stores, which give customers the autonomy to pick up ordered items, creating an opportunity for stores to increase foot-traffic that would not be available through traditional delivery or curbside pickup.
Store locators are another tried-and-true type of technology that can drive in-store sales volume, providing customers with the option to visit physical stores when desired items are not available online.
Grocery retailers' willingness and increased ability to embrace modern technology and alternative solutions to traditional in-store shopping will play a critical role in long-term success, as consumer shopping habits shift alongside global economic changes.