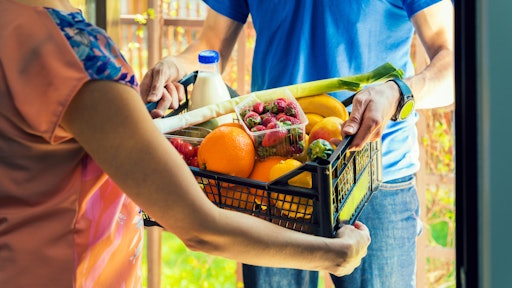 Getty Images
Shoppers' pockets are feeling the sting of record high inflation – grocery expenses increased by 7.9% in 2021 and are expected to rise by another 3-4% this year. And grocery shoppers aren't the only ones feeling financial strain. Sellers are paying more for goods, at a time when prices already threaten to turn customers away.
How exactly is inflation impacting grocery stores and their customers?
A 2021 survey from the U.S. Bureau of Labor Statistics shows that last year wages only increased by 4.5% while commodity prices rose by 6.2%. This wage-vs.-inflation discrepancy makes it increasingly difficult for consumers to meet basic living costs.
Accordingly, shoppers have shifted how they buy their groceries – primarily by purchasing food items online. Amidst rising food prices, online grocery shopping lets customers compare prices and save precious time by having products either delivered or available for curbside pickup.
The downside for sellers is that brand loyalty is slipping among today's shoppers. Instead, they merely opt for the best prices. A recent survey of over 14,000 consumers found that 20% will seek cheaper brands if prices continue rising, while another 10% will switch retailers or simply shop less frequently.
However, with challenge comes opportunity, and the rapid spike in e-commerce grocery shopping is no exception for grocers and other retailers seeking to capture the attention of the "consumer of the future." If e-commerce grocery shopping is becoming the New Norm, then the future of the grocery industry rides on sellers' ability to adapt.
Here are a few ways grocers can leverage sophisticated e-commerce tools to boost loyalty amongst customers and best appeal to shoppers in 2022 – both important goals in the face of rising inflation and shifting preferences.
Invest in e-commerce grocery platforms that are inviting and easy to use
Modern shoppers are constantly connected, sometimes even shopping on their mobile devices while browsing in-store. Having an e-commerce platform that shoppers are eager to open on any device is an important step toward building an omnichannel experience, a critical facet of creating customer loyalty in a world where shopping habits can be so fickle.
For example, if an in-store customer sees an item out of stock in the aisles, they should be compelled to pull out their smartphone right then and there to purchase it through your e-commerce grocery app. Otherwise they'll take their business elsewhere – first for that particular item and then, possibly, others.
The best grocery platforms give consumers perpetual access to the products they need. Offering such solutions increases customer loyalty and enhances the shopping experience outright.
Reducing inventory variety cuts costs and confusion
In inflationary periods, variety overkill is both outdated and wasteful. This doesn't mean stores should offer just one option in every product category. Rather, those who make stocking decisions must analyze sales data to see which products customers purchase the most and which are less in demand. Keeping top products in stock while avoiding those bought infrequently or irregularly will let sellers delist and save on items that customers won't miss.
Another benefit to selective stocking is that it mitigates customers' "decision paralysis." Shoppers can quickly select everything they need and bounce to the register, increasing their likelihood of adding items to their carts and reducing bottlenecks in the overall shopping experience.
Buy from local farms and invest in private brands
Grocers can also innovate their product selection by buying from local manufacturers and smaller brands that may have been previously overlooked. Buying local can actually reduce expenses.
Investing in local farms ultimately means that produce doesn't have to travel as far to arrive to the end consumer. This should result in lower transportation and packing costs and thus a better deal for the shopper. But there are other benefits as well – fresher produce and stimulating the local small business-driven economy.
Personalize the customer shopping experience
Improving the shopping experience is a critical step in setting your store apart from competitors. And the only way to improve the shopping experience for every customer new or old is to personalize it.
What does that look like?
Some online grocers are doing so through tech-driven platforms that offer services like a shopping list generator. This can help users quickly and intuitively create a digital shopping list by simply looking at and analyzing their own purchase history. Paired with omnichannel digital platforms, this functionality allows customers to quickly create a shopping list, selecting which and how many items to add to their cart at the click of a button.
Personalization can also manifest in the deals or coupons a retailer offers. Rather than an arbitrary series of store-wide discounts, sellers can offer promotions targeted to individual customers based on prior purchases, increasing the likelihood that any given shopper will add an item to their cart and buy it.
Smarter selling strategies solidify success
It's time for grocers to meet shoppers where their budgets are, which today means making shopping cheaper, easier and more convenient.
In 2022, every grocery store can be an online grocery store. It's the first step toward courting the modern consumer and solidifying customer loyalty in the midst of this painful period of inflation.