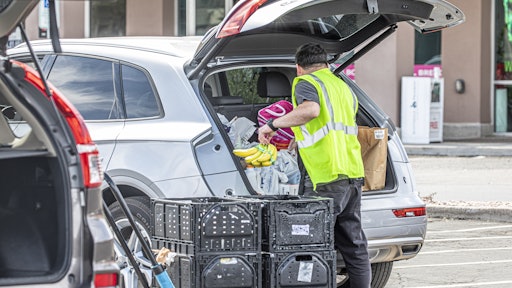 AdobeStock_340095827
When it comes to food logistics, one thing is certain – no one cold food chain is the same, yet they all share the same challenges. Whether it's the driver shortage, rising fuel costs, lack of ingredients or imports stuck at sea, the Coronavirus disease (COVID-19) pandemic has turned the nation's supply chains upside down.
But, with every challenge comes an opportunity, and one that presented itself early on the pandemic (and continues to be a mainstay) is the buy-online-pickup-in-store (BOPIS) channel.
BOPIS allows consumers to fill up their digital shopping carts with produce, meats, cheeses and more, place the order through the retailer's app, then park in the retailer's designed area for an employee to deliver your groceries to your car.
What a concept.
I will say, for myself, as a parent with two kids, I think I've seen the inside of a brick-and-mortar grocery store maybe a handful of times since the pandemic -- thanks to BOPIS.
However, sometimes those opportunities come with risks, and that means wherever there is BOPIS, there is also BORIS.
BORIS (buy-online-return-in-store) presents its own sets of challenges, especially when it comes to cold food logistics. That's because when consumers return a food item, that food item doesn't go back on the shelf like a t-shirt or a toy does. Nope, that food item gets tossed in the trash, further compounding the food waste problem. There could be absolutely nothing wrong with that food item, aside from the fact that the consumer changed his/her mind or ordered it by mistake, for example; that food item could be in pristine condition yet discarded anyways.
The challenge for today's last-mile logistics providers and third-party logistics (3PL) providers is how to eliminate BORIS while keeping BOPIS.