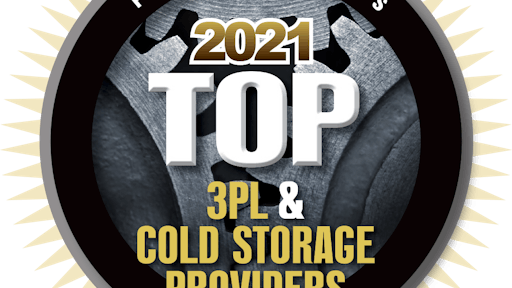 There's a lot of emotions when you ride a rollercoaster. You feel every bump as you reach the top and have that pit in your stomach right before you experience the drop, but once it's all over you feel exhilarated.
You can say the same about working in the cold food and beverage logistics space.
Over the last few years, third-party logistics (3PL) and cold storage providers have worked through a tumultuous time. Between trade wars, Brexit and the Coronavirus disease (COVID-19) pandemic, there has never been a greater need for 3PLs and cold storage spaces than right now.
"Many businesses will take the lessons learned from recent supply chain disruptions to build stronger and more reliable domestic supply chains," Matt Walaszek, associate director of industrial research at CBRE said in a press release. "Businesses will increase inventories to avoid product shortages, and they will establish a stronger domestic pipeline to insulate against the reliance on foreign markets and long-distance transportation. This will continue to drive more demand for industrial space in the U.S."
According to a study by the Global Cold Chain Alliance, the total capacity of cold storage facilities worldwide was 719 million cubic meters in 2020, up 16.7% in capacity from 2018. Meanwhile, the United States holds over 150 million cubic meters, making it the single largest country market.
These numbers are only expected to increase as more consumers shop online for their groceries. Findings from a February 2021 Acosta survey claimed that new shopping and eating behaviors adopted during the COVID-19 pandemic are most likely to stick around. The survey found that 53% of shoppers reported spending less time in stores, while 50% of shoppers reported stocking up on food/cleaning supplies.
That is why the world needs cold storage and 3PL providers. These companies help manage the cold chain and are crucial to protecting and meeting the demands of customers at a time where there are many uncertainties.
Each company included in Food Logistics' 2021 Top 3PL & Cold Storage Providers list is changing the industry. Despite what the last year has thrown at them, these providers continue to adapt their skills to implement the latest temperature-monitoring technologies, transportation management systems (TMS) and warehouse management systems (WMS). Moving and storing temperature-sensitive goods requires a commitment to improving operations in order to meet customers' needs, and these companies continue to do so.
Food Logistics is proud to announce its annual 2021 Top 3PL & Cold Storage Providers. This annual list recognizes leading 3PLs and cold storage providers in the cold food and beverage industry.    Congratulations to the winners of this year's Top 3PL & Cold Storage Providers. Below are a few standouts.
CLICK HERE to view the full list of winners.
URL: bm2freight.com
Worth Noting: BM2 Freight Services has become a U.S. bonded carrier since entering the automotive space, leveraging IT bonds into other verticals, such as the cold food chain. The company's operations model is flexible due to continuing changes in the marketplace and provides single source transportation solutions to its clients while offering on-demand transportation services. In the coming years, the cold food and beverage vertical will grow as BM2 Freight Services continues to better understand its clients and the services they may need.
URL: choptanktransport.com
Worth Noting: Choptank Transport is expanding to serve its growing customer base, with regional offices in six locations strategically located across the United States to best serve its customers, regardless of where they live. Come this fall, Choptank will open its seventh location in Easton, Md., hiring upwards of 200 employees for both customer and carrier sales positions.
URL: cjlogistics.com
Worth Noting: CJ Logistics offers a full range of supply chain services, including transportation, warehousing, logistics and consulting. Known for its consultative approach to leveraging supply chain services, the company focuses on meeting unique quality and compliance requirements of the cold food and beverage industry. CJ Logistics helps customers stay head of changes in regulations, retail requirements, emerging technology and more by providing opportunities to take charge of changes.
URL: dswdist.com
Worth Noting: In its 48 years, DSW Distribution Centers continues to offer valuable services with specialized licensing and multiple temperatures for the cold chain. The company is specialized in several different licensings and offers variety pack and heat shrink assembly production. In addition, it scores high ratings every year on the GFSI SQF certification.
URL: hmbayinc.com
Worth Noting: For almost 40 years, H&M Bay has built a reputation that allows people to trust them. The company's expert dispatchers move upward of 20 million pounds of freight per week, allowing it to commit to hard work, new technology and operation excellence.
URL: libertycold.com
Worth Noting: As a 3PL provider, Liberty Cold distributes locally throughout the Midwest. The company utilizes a warehouse management system (WMS) that reduces and minimizes paperwork, making its carbon footprint significantly lower than some of its competitors. In addition, Liberty Cold is a landfill free-facility, meaning less than 1% of all waste accumulated at the facility ends up in a landfill. This accomplishment has been verified by NSF Strategic Registrations since March 2016 and is audited on an annual basis.
URL: redclassic.com
Worth Noting: Serving as subsidiary of Coca-Cola Consolidated, Red Classic provides comprehensive transportation and fleet maintenance solutions. By utilizing a regional company-owned fleet, over-the-road network and full-service logistics division, the company serves a wide range of customers. Its commercial fleet maintenance division includes over 80 full-service shops, mobile maintenance and managed maintenance services, making it one of the largest beverage haulers in the country.
URL: rlslogistics.com
Worth Noting: RLS Logistics recently created a joint venture that will offer customers the ability to work with regional family-run cold storage providers on a national basis. These operators will maintain significant equity in their respective regions and continue to oversee operations, customer relationships and team member development. As RLS grows this network, food manufacturers can expand into new markets with the benefit of trust relationships. With proven transportation programs, modern facilities and integrated technology, customers can access new distribution networks with the benefits of an entrepreneurial partner.
URL: ryder.com
Worth Noting: Ryder's cloud and mobile-based technologies support supply chains with greater speed-to-market performances. The company also offers specialized e-commerce fulfillment solutions that are food-grade compliant and designed to meet the needs of its customers by delivering non-perishables to 99% of the country in two days or less with 100% end-to-end visibility.
URL: romarklogistics.com
Worth Noting: With over 8 million square feet of industrial real estate across the United States, Romark Logistics created a flexible environment that allows its customers to adapt and remain competitive as the market evolves. The company centers its business model on putting personalized service first. This drives Romark to create customized, growth-oriented solutions for customers. Romark has maintained its relationships for over 60 years because it focuses operations on communication, transparency, shared values and actions to drive efficiency and ensure the highest levels of service and performance.
URL: sflcompanies.com
Worth Noting: SFL Companies is dedicated to improving the supply chain through innovative technology. Its transportation management system (TMS) platform provides customers with complete transparency and also offers live shipment tracking that provides real-time location, temperature readings, integrated messaging and paperless document storage. On top of that, customers are able to view, update and add notes to a shipment from their smart devices, enabling SFL Companies to have a service-oriented environment with state-of-the-art technology.
URL: sheerlogistics.com
Worth Noting: Sheer Logistics has been providing custom supply chain solutions to top food, beverage, consumer products and manufacturing companies for over 10 years. The company specializes in selecting and implementing the perfect solution for even the most complex temperature-controlled supply chains. By offering managed freight services, multi-modal capacity solutions, cold storage, TMS, custom reporting and more, Sheer Logistics has maintained a 99% customer retention rate.
URL: trademarktrans.com
Worth Noting: For over 40 years, Trademark Transportation has specialized in the transportation of temperature-sensitive food and ingredients. Its custom-built technology is tailored to customers' needs, providing the tools needed to drive efficiencies and streamline operations. The company takes pride in being collaborative, allowing for increased customer service and smooth operations for its customers.
URL: transervice.com
Worth Noting: For over 50 years, Transervice Logistics has provided contract maintenance, full-service leasing and logistics services to many Fortune 500 companies throughout the United States. With many strategic partnerships taking place over the last 20 years, the company has been able to build upon its disclosure and gainshare philosophy that it stands by today.
Click here to view the full list of winners.