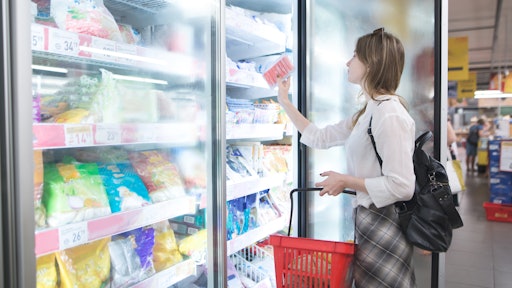 bodnarphoto - Adobe Stock
Faced with the Coronavirus disease (COVID-19) pandemic and surges in online grocery demand as high as 200%, big-box grocers have been forced to find innovative solutions for keeping pace. And, with a new uptick in infections likely to keep many shoppers away from brick-and-mortar stores for the foreseeable future, automation has emerged as a vital necessity for grocery operations.
The idea behind automation is simple—efficient fulfillment at scale. But, for most grocers, actually investing in and deploying new technologies has historically proven anything but simple. Operating on razor-thin margins, many stores have been reluctant to devote their limited resources to unfamiliar technologies, with independent and family-owned stores particularly skeptical of emerging trends like automation.
But, with digitally mature grocery chains seeing 2.2 times the annual growth of the competition, according to an Incisiv analysis, the case for embracing innovation is more compelling than ever, and the good news is that it's not too late for grocers who have been laggards when it comes to technological adoption.
For all the COVID-19-era focus on solutions like automated micro-fulfillment centers, the truth is that there's a wide spectrum of automation, meaning grocers can begin to automate more workflows and customer experiences at their own pace, based on their own resources and unique business needs.
Future Market Insights forecasts that e-commerce will grow at a staggering annual rate of 23% between now and 2030 – underscoring the need for grocers to identify and scale the right automation solutions to adjust to the market's new normal
Here's how rational automation can meet the needs of grocers and customers alike.
The road to rational automation
What exactly is rational automation? Simply put, it entails harnessing the core technologies necessary to streamline operations and enable grocers to grow.
There are many factors for grocers to weigh vis-à-vis automation—inventory cataloging, supply chain, product availability, customer shopping experience, home delivery or curbside pickup capabilities, fees and promotions and more.
To seamlessly integrate new technologies, grocers should ensure that any new solution can easily fit into their existing point-of-sale systems and can support vital functions like inventory cataloging, which will typically be one of the first places to begin rational automation. The right platform is a solid foundation for scaling automation and boosting the bottom line.
Mapping out the game plan
A robust platform is the basis for automation, but when and where should automated technologies be deployed? This is where a clear roadmap to rational automation is key.
Because effective automation occurs across a spectrum, grocers have ample options in between analog in-store experiences and a scenario in which fully automated micro-fulfillment centers pick and fulfill all or most orders. One excellent model, for instance, could involve a manual picking system for fulfilling online orders, with workers aided by algorithm-driven apps that help workers efficiently pick for multiple orders simultaneously.
Such solutions for enabling swift operations in stores are especially vital during the pandemic, with use of curbside and in-store pickup for online orders increasing for nearly eight in 10 consumers. Efficient, integrated picking systems can help grocers meet high demand for these services at scale.
Keeping the focus on the customer
Some 80% of American consumers have shopped online for groceries during the pandemic according to Inmar Intelligence, but many of them aren't shopping with their preferred stores. A number of factors likely explain this—attractive promotions being offered by other stores, geographic and delivery limitations and availability of inventory. Inmar's survey found that 51% of shoppers prefer retailers based on their available inventory, and 39% decide where to shop based on pickup and delivery times. It's no secret that big-box retailers are addressing each of these points, which makes it harder for smaller stores to retain customers.
Local grocers must therefore invest in solutions that help them meet customers' needs – especially given 58% of online grocery shoppers plan to continue buying online indefinitely. Fortunately, the automation that will enable retailers to effectively serve these customers need not involve expensive robotics or massive investments. A strategy anchored in rational automation, with elements of both manual and automated work, is more affordable and can be just as effective in fulfilling demand.
Conclusion
If automation is the future of grocery, then the future is already here. By getting on board now, grocers can retain customers, seamlessly fulfill unprecedented e-commerce demand, and shore up their long-term position.
While there's no doubt grocers need to be adding sufficient automation technologies to their operations, a rational, deliberate approach is essential. In automation, one size does not fit all.