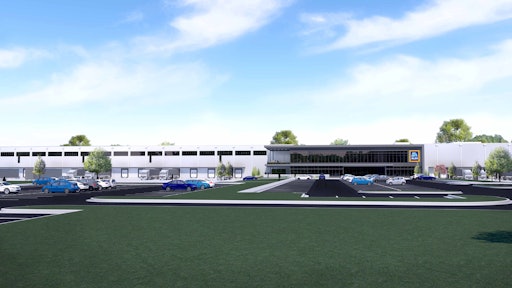 A M King
A M King partnered with ALDI U.S. to provide property consulting, design and construction of ALDI's new divisional headquarters and distribution center in Loxley, Ala. The 570,660-square-foot facility will service more than 100 stores in southern Alabama, Mississippi, Louisiana, and the Florida panhandle.
"ALDI and A M King have a long and successful relationship," says A M King V-P of operations Dan Crist. "A M King's full property consulting services were instrumental to ALDI as the company was contemplating a Gulf Coast expansion. We were charged with site selection and due diligence and once the site was identified, ALDI and A M King immediately moved forward with design and construction of the facility."
From A M King
The facility will include insulated metal panels in lieu of concrete tilt or precast concrete exterior panels, as well as optimum racking organization determined by product analysis from storage and flow perspectives.
This is ALDI's first distribution center to utilize cross-docking services.
Other notable features include full solar array over the dry warehouse, drive-In style dock doors in the perishable docks, full LED lighting throughout the entire building and site, 6-inch-thick insulated metal panels and more.