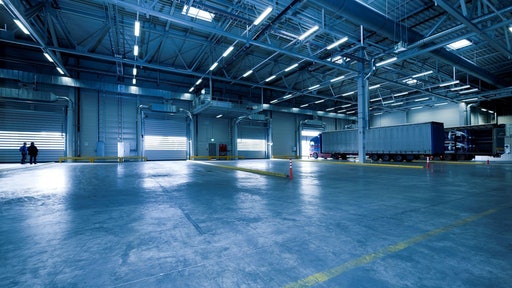 Getty Images
An industrial catwalk provides an elevated walkway for equipment and workers. But, a catwalk system can do much more for a business.
With the right approach, businesses can get the most value of their steel catwalks. These companies can provide workers with convenient and safe access to different areas of a work site. They ensure workers can use universal platforms to safely complete a myriad of tasks, too.
Find a catwalk platform to drive workplace productivity and efficiency
Industrial catwalks support conveyor systems and storage. Major national retailers and distribution and fulfillment companies commonly use catwalks to help employees safely and easily walk across a work site. That way, workers can complete various tasks without putting their health in danger.
The ideal industrial catwalk offers more than just a standard walkway. The work platform consists of a universal platform, tower support, handrails and metal stairs. Pre-assembled catwalks are readily available, but a catwalk platform can be tailored to a business' requirements as well.
Regardless of whether a company selects pre-assembled or customized catwalks, it is paramount to prioritize safety. A catwalk system should be constructed in accordance with OSHA standards. This ensures the system is built correctly and minimizes the risk of workers falling from heights. It also verifies that a business can avoid fines and penalties due to its use of a catwalk work platform that does not comply with OSHA mandates.
Learn OSHA standards to ensure catwalk systems are safe
OSHA standard 29 CFR 1910 Subpart D defines catwalks as elevated walking surfaces in a work environment, foot walkalong shafts or elevated walkways between buildings. In addition, OSHA Section 1910.22 outlines the following criteria that businesses can use to verify the safety of catwalk systems:
The systems must be kept in a clean, orderly and sanitary condition.
They must be free of snow, ice, loose boards and other hazards.
They must be load-bearing and capable of supporting a maximum intended load.
They must be inspected regularly and kept in a safe condition.
If catwalk systems are defective, they must be repaired or replaced before workers are allowed to use them once again.
All catwalk system repairs must be performed by a qualified professional.
OSHA has stair requirements for catwalks as well. Businesses can use a maximum riser height of 9.5 in. and minimum stair tread of 9.5 inches for catwalk systems. Furthermore, they can use standard, alternating tread, ship or spiral stairs to provide workers with access to catwalks.
Other OSHA standards outline catwalk load, handrail, fall protection and other safety requirements. A clear understanding of these requirements is crucial for business operators.
Following OSHA standards ensures companies can provide catwalks that enhance workplace safety. Plus, companies can verify their catwalks provide excellent options for reducing foot traffic without endangering workers.
Work with industry experts and consider catwalk systems that are easy to install
The best industrial catwalks can simultaneously increase workplace productivity, efficiency and safety. They generally won't require a complex and lengthy installation process either.
Business industrial catwalk requirements vary. To find the right industrial catwalk, it pays to partner with a company that specializes in customized catwalks. From there, a business can receive expert tips, recommendations and insights to identify a catwalk system that meets its requirements. Relying on experts in the industry also means fast and seamless installation, so workers can start using an industrial catwalk work platform right away.
Typically, a catwalks provider devotes the time, energy and resources necessary to find out why a company wants industrial work platforms. The company often considers the elevation for the primary catwalk structure and the walkway surface as it designs a catwalk. Moreover, it considers a catwalk's load-bearing capacity, which depends on how workers will use the platform.
Next, a catwalks provider develops a plan to ensure the business gets the work platforms it wants, as quickly and affordably as possible. The catwalks provider may recommend catwalks that are powder-coated, which helps ensure that the work platforms won't wear down easily. It may also recommend prefabricated catwalks, as they require only a 4-bolt connection for installation.
Choose catwalks constructed with care and precision
To guard against construction and installation mistakes, choose a catwalks provider that prioritizes safety. Even a single mistake during catwalk construction or installation can spell doom for a business and its workers. A defective catwalk can put workers at risk. If a catwalk accident occurs, it can lead to serious injury or death. The accident can also result in an OSHA violation, as well as associated brand reputation damage, revenue losses and legal consequences.
The best catwalks provider can provide insights into the benefits of work platforms. This provider can help a business choose a catwalk that promotes workplace productivity, efficiency and safety. It can also construct and install a work platform to the proper standards.
Every catwalk should be built in alignment with OSHA standards too. OSHA updates its catwalk construction standards periodically, so partnering with a catwalks provider that stays up to date on these standards is key. This ensures a company can get catwalks built with care and precision. Most importantly, the company can work with a catwalks provider that puts safety first.
Select catwalk platforms that are strong, versatile and safe
It's important to evaluate catwalk system features carefully. This ensures a company can find a catwalk platform that delivers outstanding results. Here are common catwalk work platform designs and features to consider:
Steel assembly. Steel assembly can make a world of difference relative to catwalks. A thick-gauge steel catwalk delivers immense strength and durability without requiring welding.
Flat-bottom design. Catwalks with a flat-bottom design can be advantageous for certain locations. A flat-bottom design gives a company the flexibility to use ceiling-hung drops as needed.
Anti-skid. Certain catwalks come equipped with anti-skid protection as well. These catwalks can feature plank grating for slip resistance. In doing so, they can lower the risk of worker slips, trips and falls.
These features come standard on many catwalks and can deliver tremendous value, as they help workers use them for a variety of heavy-duty tasks. At the same time, they enable a business to protect its workers against catwalk accidents, injuries and fatalities.
Reap the benefits of industrial catwalks
There is a lot to like about industrial catwalks. Businesses can use these work platforms to help workers complete everyday tasks and remain productive, efficient and safe.
Meanwhile, there is no shortage of catwalk options available. Businesses of all sizes and across all industries can choose from a wide range of catwalks, but they must always ensure their work platforms are constructed and installed correctly.
When choosing a catwalk provider to work with, evaluate several to find one that can fulfill your company's work platform request. This ensures your business can provide its workers with a terrific catwalk that performs well now and in the future.