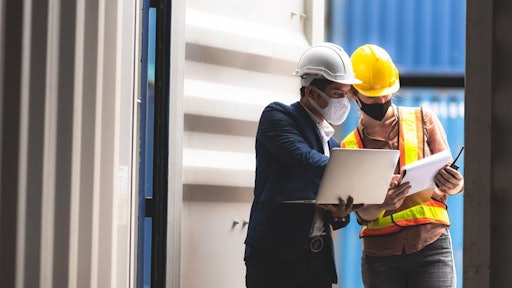 chokniti
U.S. grocers would do well to focus more of their attention on an underemphasized aspect of the supply chain—the massive reconfiguration of retail and warehouse real estate required to ramp up grocery distribution in an increasingly omnichannel shopping environment.
As big box grocery retailers invest billions of dollars into the rapid and efficient fulfillment of online grocery orders, the rest of the industry is feeling the pressure to match them or otherwise see a decline in customers, profitability or a deadly combination of both.
While in most cases regional and independent grocery chains cannot afford to match this kind of scope and scale, they can and should be working to implement new technologies, both in stores and warehouse distribution facilities, to improve their omnichannel offerings and efficiency. This includes everything from in-store micro-fulfillment centers (MFCs) to improved inventory management and order fulfillment solutions.
Staunch advocates of the MFC model envision a distributed network of thousands of fully automated individual order fulfillment systems located in both existing store footprints as well as underutilized dark retail spaces. The goal is to bring highly efficient fulfillment to a wide array of operators. According to LogisticsIQ, by 2030 there will be one MFC for every 10 grocery stores in the U.S.
That sounds promising, but the complexities of the real estate market could make these strategies more difficult to execute than some may appreciate.
Real estate scarcity
The e-commerce-driven explosion of demand for industrial real estate, which only accelerated during the pandemic, has led to a scarcity of warehouse and distribution space in many markets. In a report last year, JLL estimated that by 2025, the United States may need as much as 1 billion additional square feet of industrial real estate, 100 million square feet of which will be in additional cold storage. Given this massive shift, both private and institutional investors continue to sink billions of dollars into this asset class. They are catering not just to supermarket chains, but also to a wide range of fast-growing sectors hailing from across the U.S. economy.
For grocers seeking to compete on highly efficient order fulfillment, this means that finding new warehouse and distribution real estate could be challenging indeed. When they find suitable land and/or buildings, they could easily be outbid by well-capitalized investors focused on industrial assets.
Real estate constraints could even limit the availability of MFCs despite their smaller size and greater flexibility. Given these facilities' "last mile" nature, they need to be located in close proximity to existing residential customers. This in many cases requires the repurposing of real estate, including underutilized retail space—a step that often requires overcoming obstacles related to zoning, permitting, parking and/or co-tenants' restrictive lease clauses.
NIMBY concerns
In states like New Jersey, which is a hot spot for warehouse construction, concerns are growing about supposedly "out-of-control" industrial development. One New Jersey state senator even introduced a bill aimed at curbing warehouse construction. As distribution infrastructure becomes more commonplace and visible, community concerns about noise, traffic and inadequate safety and pollution controls (idling trucks, for example, are a perennial "not-in-my-backyard" or NIMBY complaint) will only increase.
The bottom line: Be proactive
The point here is not to discourage grocers from moving forward with their technology and automation-based distribution strategies, including investments in MFCs. In fact, it's precisely the opposite because these approaches represent the future. However, given the potential for real estate-related challenges to create significant obstacles, it's important to be proactive and dive into the planning and rollout as quickly as possible.
The goal should be to rethink your distribution real estate for the emerging, omnichannel grocery industry. This includes both adding additional MFC capacity and determining what changes this will require to existing retail store networks and individual store layouts. Toward that end, grocers need to align their real estate and business plans over multiple years, as opposed to the more traditional focus on shorter-term decisions related to things like traditional store remodels and upcoming lease expirations. Now more than ever, distribution and retail real estate function as a whole—store decisions are inseparable from considerations around distribution and vice versa. You need time to plan, and then put the pieces in place.
Other moves could include right-sizing, consolidating and relocating stores to optimize both traditional and e-commerce sales and profitability. This should also include consideration of how this affects your distribution map given that these networks--while becoming more integrated with physical retail stores—are also spread out more widely between traditional, large-scale distribution facilities and the customer.
By creating a multi-year plan for modifying your distribution network now (including the impact on existing retail store locations and leases), you will have more time for implementation. This includes making modifications to the plan that will be required due to certain limitations and constraints that will inevitably arise when working to execute these strategies.