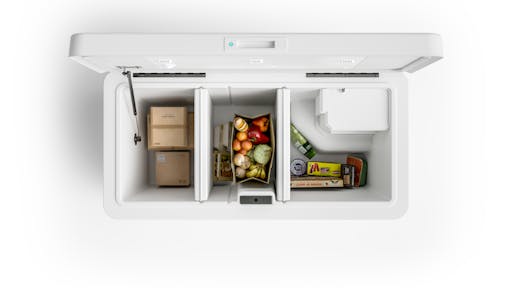 HomeValet
HomeValet launched Smart Box, what is said to be the first-of-its-kind solution for secure, contactless 24/7 delivery eligible for Walmart InHome customers in select participating regions this January.
"The rapidly maturing e-commerce market exposed a vital need for increased package security and food safety in supply chain 'last-mile' delivery to consumer homes, which HomeValet is designed to solve," says John Simms, HomeValet founder and CEO. "By connecting consumers, retailers and couriers to a secure end-point outside consumers' homes, we enable automated delivery of packages, groceries and other goods and reduce consumers' time burdens of home delivery and offer convenience and freedom, avoidance of logistics issues and capture large scale efficiencies improving the home delivery experience for consumers and retailers."
Early last year, Walmart and HomeValet partnered to pilot temperature-controlled Home Valet-powered smart box technology for consumers to properly store the refrigerated and frozen foods and beverages received from grocery delivery.
From PR Newswire:
Smart Box is a secure, temperature-controlled and internet-connected outdoor receptacle that enables seamless unattended delivery of fresh groceries and packages directly to consumers' front door steps.

Through HomeValet's mobile app, consumers can customize, manage, monitor and remotely control their Smart Boxes.
"The adoption of the HomeValet Smart Box will create a whole new category within the home appliance industry, which hasn't changed much since the introduction of the microwave in the 1970s," says Jack Simms, HomeValet co-founder and COO. "More importantly, HomeValet-powered, IoT-connected Smart Boxes will put the control in consumers' hands, so home delivery is designed for the convenience of shoppers, not just retailers."