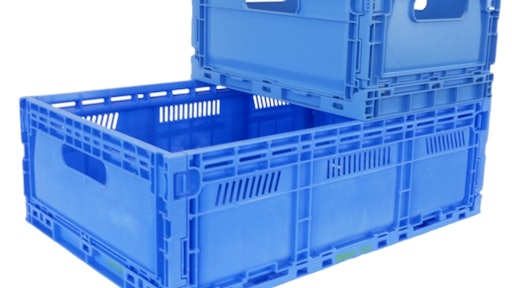 Tosca
Tosca added a new 10-down seafood reusable plastic container (RPC) to its portfolio.
The Seafood 3419 features product insulation, cost-efficiency, the ability to replace 10-down EPS foam boxes and improved stacking capabilities.
"The seafood category is one of our largest sustainability opportunities. EPS foam has a terrible impact on the environment and enabling the seafood industry to replace EPS foam entirely with RPCs is a huge priority for us," says Eric Frank, CEO at Tosca. "This drive to facilitate more sustainable seafood supply chains was initially why we implemented the Seafood 6419 for finfish, however current retail partners have more sustainability needs. They turned to us for a smaller solution that could accommodate shellfish and tray pack fish, thus initiating the launch of the 10-down seafood container."
From Tosca:
 The 10-down crate will primarily be used for tray pack fish and shellfish.
The Seafood 3419 also offers a more sustainable alternative to corrugated and foam in seafood supply chains.