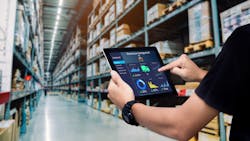 ©panuwat - Adobe.Stock
Throughout the supply chain, software and technology are currently flourishing. Up until the pandemic, the shift to an automated supply chain was already trending upward. However, when the pandemic hit — coupled with the labor shortage and the e-commerce boom — the trend was accelerated at an exponential rate.
All these factors, along with other supply chain disruptions, are driving warehouses to look to automation to bridge the gaps in operations, improve efficiency and accuracy, and ease the burden of manual labor on human employees. According to industry experts, this shift to warehouse automation will continue to grow, as it is already an integral part of supply chain operations. 
Download the Directory of the Top Warehouse Automation Systems
By downloading this FREE downloadable report, 2022 State of the Automated Warehousing, you will discover:
The Current and Future State of Warehouse Automation  
What Factors to Keep in Mind When Considering a Warehouse Automation System
EXTRA - Infographic Directory: The Top Technologies in Warehouse Automation