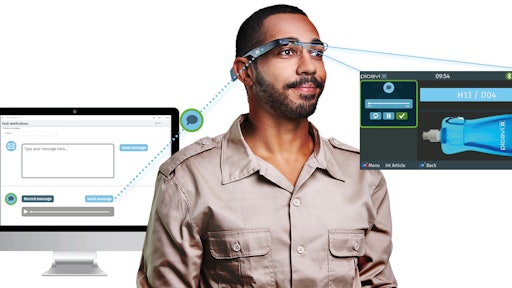 Picavi
Digitalizing the supply chain is the future. But, getting there takes automation and emerging technology. It requires investing in solutions designed to track and trace, produce data analytics and deliver real-time alerts when parts of the supply chain fall off track. It requires buy-in from all decision-makers to help build the supply chain of tomorrow.
And, it's this automation and emerging technology that helps the cold food chain build the supply chain of tomorrow.
In Food Logistics' March/April 2022 issue, editor-in-chief Marina Mayer talks with several industry experts about warehouse automation and how automation and emerging technology future-proof supply chains.
Here's an interview with Carsten Funke, CEO of Picavi, details why wearables are key to reconciling dependence on vital warehouse employees but still capitalizing on cutting-edge technologies, with excerpts publishing in Food Logistics' March/April 2022 issue. [CLICK HERE to read the article in full].
Food Logistics: From your perspective, what are some of the top challenges today's cold food chains face?
Carsten Funke: Like all forms of distribution, it is about finding labor and optimizing the labor you have for maximized efficiency and quality of output. Working in a freezer has to be one of the more difficult jobs in the supply chain industry. Coupling that with how hard it is to find and retain labor in this market climate, and the challenges for cold food chains come into sharp focus. So, if you can employ tools that assist the worker, bringing greater job satisfaction while also getting more efficiency out of the people you have, this is a win-win for the company.
Food Logistics: And, how can warehouse automation help overcome these challenges?
Funke: Adding an assisted reality vision solution like Picavi's Pick-by-Vision to a worker can optimize their performance and add 10-30% productivity lift per worker, which in turn equates to fewer workers or less time overall in the freezer space. Plus, the ease and ergonomics of the solution increase job satisfaction from both the physical and actual aspects of the work, leading to employee retention in addition to these gains in productivity.
Food Logistics: The warehouse automation market is expected to grow to $27 billion by 2025; twice the size it was roughly five years ago, according to Research and Markets. To what do you attribute this growth to?
Funke: Labor shortages. Companies have seen the labor shortage projections on the horizon; now that the shortages are truly here and are real, many companies are taking swift action to evaluate technology to help fill the gap. But wearables like smartglasses are only one part of the picture for companies despite this growth as manual process costs in logistics are still around 70%.
Food Logistics: There are many different types of automated warehousing solutions. What kinds of emerging warehouse automation technologies do you see continuing to make an impact on the industry?
Funke: Wearables, devices (connected via Internet) that can be worn on the wrist, head, face or any other body part. Picavi's Pick-by-Vision solution is the perfect marriage of modern technology and the natural movements of the worker. The system uses smartglasses for visual guidance, enabling highly flexible, hands-free work without fatigue. The use of the innovative application maximizes productivity in the warehouse and minimizes error rate while also offering valuable analytics and communication applications for warehouse operations.
Because of the universal nature of visual guidance, training and onboarding users is minutes rather than hours or days. Workers are up to speed and productive from Day 1.
To get a little more specific, the system is incredibly practical. Known as assisted reality, this system allows the picker to see both the projection and the warehouse environment. People take in 80% of all information through their eyes, smartglasses capitalize on this and pickers can view all the important information, while being guided visually through the process. Thanks to speakers and microphones in the glasses workers further control the process with their own voices. They can also easily communicate in real time with the warehouse center for any problems that arise.
Food Logistics: What advice do you have for those companies still struggling to adopt warehouse automation? Where do you envision the hang-ups being and why?
Funke: The cost of full automation is prohibitive. End-to-end automation is hard to attain, challenging for operational reasons and expensive. Plus the reality is that warehouses rely heavily on the human-powered processes already in use. Looking for solutions that reconcile dependence on vital warehouse employees but also capitalize on cutting-edge technologies to gain competitive advantages is key. Wearables are the answer.
Plus, much of the new technology is not extremely established, and is evolving. Companies need to rely on short implementation timeline pilots to ensure they are seeing results and can move forward with widespread rollouts of new technologies. The fast go-live process of the Picavi ecosystem, combined with training and adoption of the solution in minutes as opposed to days, are additional reasons to employee wearables immediately in the warehouse.
Food Logistics: What are some things not addressed above that may be pertinent to our readers regarding warehouse automation in food logistics?
Funke: Because human workers are still vital, it is also important to consider how automation can help reduce annual manual process cost. Automation that amplifies the cognitive abilities of humans in the warehouse will ultimately drive the costs of those processes down with better process efficiency and increased productivity. Smartglass solutions like Pick-by-Vision have proven to bring these costs down.
An integrated analytics function and business intelligence platform like the Picavi Cockpit that rounds out the Pick-by-Vision ecosystem support all trace in; trace out attribute tracking for the cold chain along with innovative data capture capabilities such as voice and picture/video data capture capabilities.
[CLICK HERE to read the article in full].