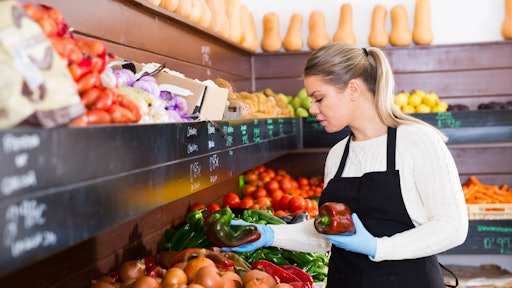 Sysco Announces Executive Leadership Changes
Sysco Corporation, a global foodservice distribution company, announced that Judith Sansone joins the company as executive vice president and chief commercial officer, effective Oct. 26, 2020.
In this newly created executive role, Sansone will lead Sysco's overall commercial strategies, including responsibility for merchandising, marketing, pricing, digital sales enablement, customer loyalty program development, customer personalization and exploring new channel sales development. Sansone will coordinate company-wide efforts to profitably grow sales by better serving customers with best-in-class merchandising, marketing and personalized engagement. She will also work collaboratively with Sysco's field-based sales organization to acquire new business and increase sales with existing customers through these strategic efforts.
In addition, Sysco also announced today that Michael Foster will be stepping down from his position as executive vice president and chief information and technology officer, effective Dec. 31, 2020, to pursue other opportunities. Sysco is grateful for Foster's leadership, integrity and service, including the implementation of prudent technology cost reductions, advancement of Sysco's ecommerce platform (Shop) and a successful transition to a broad-based remote work environment. The company expects a smooth transition and to announce Foster's replacement soon.
The Wendy's Company Names Kevin Vasconi Chief Information Officer
The Wendy's Company announced the appointment of Kevin Vasconi, 59, as chief information officer, effective today. He will report to president and chief executive officer Todd Penegor and serve on Wendy's senior leadership team. Prior to joining Wendy's, Kevin served as executive vice president, chief information officer at Domino's Pizza, Inc., a role from which he retired earlier this month.
Smithfield Foods Announces Planned Retirement of President, CEO
Smithfield Foods, Inc. announced that Kenneth M. Sullivan, president and chief executive officer, will retire from the company, effective in early 2021, following a distinguished four-decade-long career – nearly half of which were spent at Smithfield. Dennis Organ, chief operating officer, U.S. operations, will succeed Mr. Sullivan as president and chief executive officer upon his retirement. During his five years as president and chief executive officer, Sullivan delivered record results and led Smithfield through a monumental transformation.
Hormel Foods Announces Executive Retirements and Advancements
Hormel Foods Corporation, a global branded food company, announced the retirements of Donnie Temperley, vice president of Refrigerated Foods operations, and Tim Fritz, vice president of Grocery Products operations. Both retirements will be effective in spring 2021.
The company also announced the advancement of Clint Walters, currently plant manager of the company's Austin, Minn., manufacturing facility, to the position of vice president of Refrigerated Foods operations, and John Forsythe, currently plant manager of the company's manufacturing facility in Atlanta, Ga., to the position of vice president of Grocery Products operations.
Roland Fumasi Named New Head of RaboResearch North America
Rabobank has appointed veteran food and agribusiness research analyst and economist Roland Fumasi to lead its RaboResearch Food & Agribusiness (F&A) team in North America. In the six years Fumasi has been a senior RaboResearch analyst with the organization, he has gained recognition regionally and globally for his sector outlooks and industry presentations. As head of RaboResearch F&A North America, Fumasi says his goal is for the team to continue providing unparalleled insight and value. Fumasi joined Rabobank as an analyst in 2014, and in 2017 was appointed manager of the Fresno, California RaboResearch team.
PMA welcomes six industry leaders to PMA Board of Directors
Produce Marketing Association (PMA) will welcome 6 new industry leaders to the PMA Board of Directors on Thursday, October 22 as the board meets for the first time. The newly elected leaders span the industry supply chain and the global community. PMA's Board is highly engaged contingent of industry leaders who provide a variety of perspectives and experience from across the global produce and floral supply chains. They work with PMA staff and other industry members to help carry out the PMA mission to connect, inform and deliver industry solutions to enhance member prosperity.
NFRA Elects New 2021 Officers and Directors
The National Frozen & Refrigerated Foods Association (NFRA) elected its association officers and members of the board of directors for 2020-2021 at its annual board of directors meeting held virtually on Oct. 16, 2020.
Joe D'Alberto, director dairy/frozen, Harris Teeter team, Acosta sales & marketing, has been elected to serve a second term as chairman of the board. D'Alberto has served on the board of directors since 2006. He served as Convention Chairman from 2012-2017, as secretary from 2017-2018 and chairman-elect from 2018-2019. D'Alberto is also a member of the Honorable Order of Golden Penguins and Distinguished Order of Zerocrats.
Other officers announced at the meeting were: Kevin Schwab, The Pictsweet Company, Chairman-Elect; John Arnold, Sargento Foods, Secretary; Mark Tarzwell, Ateeco, Inc./Mrs. T's Pierogies, Treasurer; Steve Mayle, General Mills, vice chairman - Frozen and Bob Knodle, H.P. Hood, vice chairman - refrigerated. Newly elected to the Board of Directors were: Bob Brown, Jewel Osco; Angie Christos, Tyson Foods; Susan Durfee, Tops Markets; Chris Groll, Florida's Natural Growers; Brian Haley, Burris Logistics; Tom Robaczewski, Bays Bakery; Kellie Shetlar, ConAgra Brands; Greg Somerville, Land O'Lakes Foods.
Markon Names Andy Hamilton New Chief Executive Officer
Today, Markon Cooperative announced Andy Hamilton will serve as the next chief executive officer effective immediately. Hamilton comes from a strong background steeped in foodservice, sales, partnership relations, and operations management, and will focus on continuing to drive growth for the cooperative through brand leadership, culinary innovation, and 5-Star Food Safety. Most recently, Hamilton was a senior vice president at Get Fresh Companies, one of the largest distributors and fresh-cut partners in the Southwest.
Companies in this article