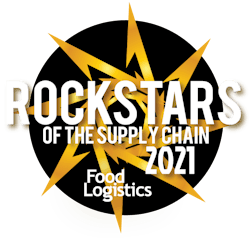 Food Logistics is now accepting nominations for its seventh annual Rock Stars of the Supply Chain award.
The award showcases rock stars in the global cold food and beverage supply chain industry whose achievements, hard work and vision have shaped and attained milestones in safety, efficiency, productivity and innovation. From early pioneers and entrepreneurs to non-conformist thinkers and executive standouts, Food Logistics aims to honor these leaders and their contributions to the industry.
To preview a PDF copy of the survey for review, please click here. To nominate an individual (or to self-nominate), please complete the following questionnaire through this link.
All applications MUST BE submitted in full electronically. Anything that is provided in the application may be used in print. Incomplete, late and submissions not submitted through the link will not be accepted. 
Deadline: All entries must be submitted by Friday, December 4, 2020. At this time, we do not have plans to extend the deadline. 
Questions can be directed to assistant editor Mackenna Moralez at mmoralez@acbusinessmedia.com or editor-in-chief Marina Mayer at mmayer@acbusinessmedia.com.