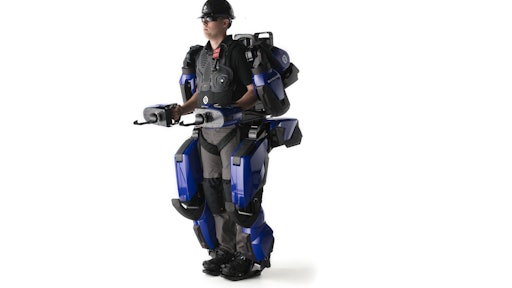 Sarcos Robotics
Labor shortages, a pandemic, cold temperatures and energy concerns are just a few of the current pitfalls that come with the operation of a cold warehouse today. Work in the cold chain offers steady income since the transportation of food is always needed, but the strenuous temperatures sometimes deters potential employees. However, modern cold warehouses offer a more comfortable environment than those of the past since technology has streamlined many job functions to provide greater comfort.
Robotics has existed as a part of the assembly line and warehouses for decades, but today's robots look quite different than their ancestors. Armed with artificial intelligence, sensors and endless data, warehouses use cutting-edge robotics to close gaps in the supply chain as well as streamline operations and job functions. While the threat of robots taking human workers' jobs is often debated, robotics' usefulness in the cold chain warehouse cannot be denied, especially during the Coronavirus disease (COVID-19) outbreak.
"Before COVID-19, the cold chain market experienced consistent growth year-over-year, with market value growing from $188.42 billion in 2017 to an estimated $269.61 billion by 2024," says Kristi Martindale, chief customer officer and executive vice president, product strategy for Sarcos Robotics. "As a direct result of COVID-19, U.S. consumers increasingly purchase their groceries online for either D2C delivery or BOPIS (buy online/pick up in-store). Because of this surge in overall grocery e-commerce, the cold storage market, along with the food industry at large, is facing significant disruption, growth opportunity and unique challenges.
"The most obvious challenge that cold storage owners and third-party logistics providers (3PL) face are adequate temperature-efficient cold storage facilities and processes to ensure product quality and productivity. After energy-related concerns, labor-related issues are the second-greatest pain point for 3PLs, as 70% of overall costs for 3PLs are attributed to labor," Martindale adds.
Many experts cite robotics' ability to close the gap caused by the shortage of workers, or for the parts of jobs that are more difficult or undesirable for humans.
"Prior to COVID-19, there was a global shortage of workers. Retaining workers in a cold warehouse can be even more challenging due to the undesirable working conditions," says Lisa Donnelly, vice president of marketing at Soft Robotics. "At Soft Robotics, we are asked all the time if robots will take away jobs from people. Our position is, robots should replace the jobs that people don't want to do. Cold warehousing is a prime example. Meat processing, seafood handling etc. are cold, wet environments [that] are uncomfortable and pose worker safety concerns due to wet slippery floors, etc. Robotics automation in these types of work settings is a very good option. Robots don't call in sick, slip and fall or develop repetitive use injuries."
Before COVID-19 even hit the United States, International Data Corporation predicted that worldwide spending on robotics systems and drones will hit $128.7 billion by the end of this year, an increase of 17.1% over 2019. Following the impact of the pandemic, it is likely even more warehouses will look to robotics than previously predicted.
Click here to hear more about drones in the warehouse:
A robot's job in the warehouse
Robotics optimizes the hard-freeze process by improving speed, consistency and waste reduction, while automated storage and retrieval systems (AS/RS) enable higher storage density within cold storage warehouses to mitigate the surge in demand, according to Martindale. And, robots that load and unload pallets installed inside refrigerated rooms help companies reduce the time employees spend loading pallets in severe temperatures while maintaining a steady workflow.
But soon, the use of wearable robotics will bridge the gap between robots and humans even further and push out greater efficiency.
"At Sarcos Robotics, our goal is to provide robotic systems that help maximize the warehouse industry's workforce potential through increased safety and efficiency," Martindale says. "Our Guardian XO full-body-powered exoskeleton is a wearable robotic suit that amplifies the operator's strength without restricting freedom of movement. By enabling workers to lift and transport goods up to 200 pounds, the Guardian XO helps boosts productivity for last-mile, manual goods handling and non-conveyable or less-than-pallet-load type logistics – all while dramatically reducing heavy lift-related injuries."
The hardware in robotic systems increases mobility and agility to optimize warehouse operations, but in addition, the software becomes more sophisticated to handle these complicated tasks. Many robotics providers create software solutions that fit any need a warehouse has, as flexibility is key. Each warehouse is different in layout, operation and management, which means robotic solutions must be able to fit to multiple environments.
For example, Soft Robotics released its coDrive solution, a modular system that brings the mGrip soft gripper technology to collaborative robots without the requirement for tethered pressurized air.
Freezing out functionality
Beyond usefulness, robotic manufacturers also need to keep in mind the cold warehouse environment to ensure longevity in equipment lifespan. Cold and industrial environments impact robotics equipment in unique ways.
"As with any equipment, designing and maintaining the robotic system to withstand the element it will be subjected to is a key factor," says Donnelly. "It is important to work with a robot manufacturer or one of their affiliated system integrators [that] specializes in cold environments and can design, install and provide the appropriate maintenance directions for success."
Cold warehouses can impact battery power as well as overall battery life. An intuitive design for workers wearing gloves is also imperative, as human employees dress in special clothing to protect against the elements. For these workers, the environment is just as dangerous as it is uncomfortable without the correct equipment. The more difficult robotics systems are to interact with while wearing heavy clothing such as gloves, the more frustrating the process becomes.
"Freezing temperatures sap power from electric batteries," says Martindale. "For example, when operating in cold storage facilities, the forklift's average battery life can decline between 2050% faster than it would in a standard warehouse environment. Forklifts rated to last eight hours in a typical climate would only last approximately 4-6 hours in a refrigerated or frozen one. Electronic devices designed for such environments may have higher voltage batteries rated for extended hours, so that a full eight-hour shift can be achieved. The Guardian XO robot uses three hot-swappable batteries to address such variabilities and enable near-continuous operations.
"Electronic devices' battery life is also affected by the cold," she continues. "Consideration like special seals that can withstand frequent temperature changes as they move between temperature zones will be necessary.
"People who work in cold storage facilities need to bundle up to keep warm; thick gloves are standard-issued personal protective equipment. Any operator interface (i.e., grips, tools or touchscreen displays) needs to be designed to work with and respond to a glove's touch vs. a naked finger," says Martindale.
As robots find their place in the cold warehouse and employees learn how to work in tandem with them, the future of the cold chain will see optimization unseen in the past. The more advanced these systems become, the more sophistication can be had in cold work environments.
Companies in this article