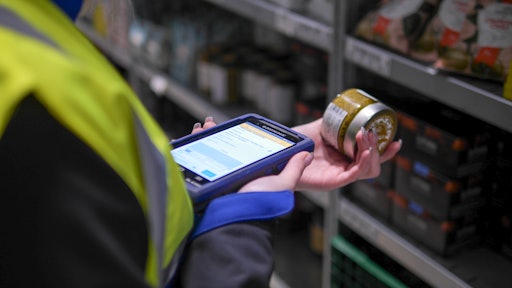 Descartes
As online shopping becomes the first choice for many consumers, and more and more e-commerce companies begin to surface, retailers are faced with the pressures of peak shopping seasons combined with the added challenges of outshining their competition and fulfilling more orders in less time.
Today, more than 40% of worldwide Internet users have purchased a product online, according to this Statista report, and the fight to claim a large portion of this pie is in full force.
Furthermore, today's shoppers focus on convenience, and whether they're shopping for weekly grocery hauls, upcoming holidays or just the latest sales, they want their products at their doorsteps faster than ever before. As a result, the ability for retailers to get products into the hands of consumers as quickly as possible is no longer a bonus—it's a competitive advantage.
In order to get ahead of order rushes, e-commerce companies need to ensure that their fulfillment processes are capable of meeting consumer expectations while improving sales margins and maintaining a competitive edge against other players in the space.
With this in mind, here are five tricks to optimizing e-commerce fulfillment and exceeding customers' expectations during times of peak demand.
1. Automate internal processes
During peak shopping seasons and other demand spikes, many organizations are faced with an exponential spike in order volumes—with increasingly less time to fulfill them. To better manage these circumstances, companies need to explore options to automate fulfillment processes to save time and improve accuracy to ultimately nurture vital customer relationships.
To keep up with the fast pace of orders and the limited time available to fulfill them, companies can utilize a variety of technology solutions. For example, by implementing a cloud-based and e-commerce-enabled warehouse management system (WMS), organizations are better positioned to streamline warehouse workflows to increase fulfillment speed, maintain order accuracy and improve customer relationships—all while eliminating the time-consuming efforts associated with manual and paper-based legacy systems.
What's more, because automated order fulfillment solutions are equipped with system-guided processes and user-friendly interfaces, organizations can save time and money on training temporary and seasonal staff members during significant demand increases.
In addition to improving order accuracy and improving customer relationships, streamlining warehouse workflows and fulfillment processes have added benefits. Automating pick, pack and ship processes through the use of barcode scanners in a warehouse can help an organization increase order accuracy and workflow productivity—improving the prospect of on-time delivery performance for the customer while helping to minimize operational costs across the board.
2. Streamline workflows via technology
In order to thrive in an increasingly competitive space, companies need to prioritize the customers' needs and overall experience. As consumer expectations around acceptable shipping windows continue to grow, delivering orders when promised cannot be overlooked, or organizations run the risk of losing customers to competitors.
Organizations working to meet these expectations will benefit from automated, cloud-based shipping platforms that can accelerate fulfillment accuracy and speed by integrating with an organization's back-end financial systems, parcel shipping providers and online marketplaces.
What's more, leading shipping solutions enable users to "rate shop," or compare shipping rates, delivery options, transit times and more from multiple vendors side-by-side and in real-time. This process helps retailers meet customer expectations while, in parallel, better understand total delivery costs.
3. Cross the finish line
Delivering an item when it's most convenient for your customer is now a significant competitive advantage for companies. Delivery is no longer just about "quick" and leading shipping and delivery strategies focused on the consumer, rather than on just cost cutting for the retailer.
For organizations aiming to wow their customers and hold their own against bigger players in the space, an automated scheduling and optimized routing strategy can help increase delivery times while decreasing overall costs. For example, organizations can manage consumer expectations by providing dynamic booking options or by giving the customer multiple delivery choices at the point of sale (e.g., same-day, next day, 2-hour window, 4-hour window).
In addition, automated dispatch and tracking provides much-needed real-time visibility into delivery status, which gives companies the information they need to proactively manage customer expectations—especially critical during peak season's increasing order volumes, last-minute shopping and other demand spikes.
4. Embrace online marketplaces
As our world becomes increasingly digital, online marketplaces account for an ever-growing portion of overall retail sales. In fact, U.S. digital revenue will grow 13% year over year, according to SalesForce, accounting for total sales of $136 billion from Nov. 1-Dec. 31, 2019. With the presence of over 90 individual existing shopping channels and the rise of Google Shopping Actions throughout the United States and other countries, there are countless opportunities for consumers to prioritize online marketplaces when shopping. Because of this connectivity, retailers are able to reach a broader pool of consumers both domestically and beyond. To capitalize on this growth, retailers will find additional benefits from an e-commerce-enabled WMS in peak season and beyond.
5. Prepare for returns
Some gifts keep on giving while others are sent back. Getting deliveries in the hands of consumers is a challenge, and it can be even harder to manage their returns. Returns can have negative financial consequences, including reduced profit margins and watered-down conversion rates, but their impact on a company's bottom line doesn't end there. In fact, according to Statista, return shipments in the United States are expected to cost $550 billion by 2020, and as 89% of shoppers report returning an online order, these costs show no signs of subsiding.
To get ahead of the potential consequences of a challenging return management environment, and to do so in less time than ever before, companies can benefit from automated, barcode-based reverse logistics technologies. Through these types of capabilities, an integrated put-away ABC classification can expedite internal processes with return orders to re-stock shelves and accelerate future picking.
In addition, by optimizing returns processes, a retailer is better positioned to re-sell returned items faster. By separating the receiving and classification processes for inbound returns, organizations are also able to replenish various sales channels faster. These shipping technologies can further streamline the process by creating return labels on behalf of the consumer, ultimately simplifying their role in the returns process and driving a more positive customer experience.
Make the most of high demand
Optimizing internal processes to streamline e-commerce supply chains is a challenge, but it's not impossible. By using readily available technologies and solutions to help automate and streamline internal warehouse procedures and fulfillment processes, e-commerce retailers are better equipped to handle the peak season rush and exceed consumer expectations.