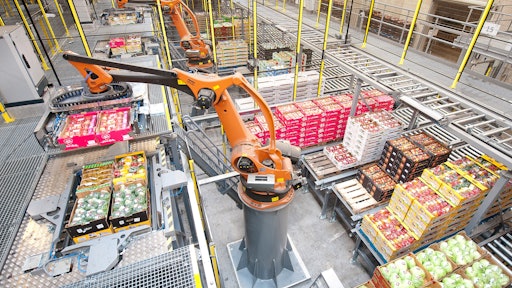 Dematic
There are a lot of old jokes about the futility of trying to predict the future, and there's a good reason for that—it's human nature. But, folks in the industry can't help wanting to know what's to come.
This is especially true in times of uncertainty. We as humans have an instinctive desire to look ahead, envision a better place and get there as soon as possible.
Today, for the grocery business, a better place would no doubt be anywhere but here—a place where supply chains make sense again and are comfortably under control.
The thing is, predictions won't get us to that better place. But, preparation, data and planning will. Here's what that means for grocery retailers.
That was then—predicting the future
Previously, grocers were focused on meeting generally recognized supply chain challenges such as the growing volume of online orders and navigating the anticipated peaks for in-store shopping (typically seasonal). Those plans not only made sense, but also produced generally favorable results:
· Automated solutions replaced manual processes to build repeatable efficacy.
· Predictive analytics now find potential issues before they become problems, which has reduced downtime.
· Advanced warehouse execution software now monitors operations and generates valuable data.
All good efforts, to be sure. But, as it turns out, they have been pointed a bit too rigidly at where the industry was predicted to go and not so much at maintaining flexibility to pivot to where the industry could go. Supply chains that have been working toward what was predicted haven't necessarily been prepared for what has actually happened.
To say that hindsight is 20/20 is not only a cliché; it's also not particularly helpful. However, hindsight may help the industry gain the proper mindset for what to do now.
This is now—preparing for the future
Let's acknowledge what has happened and get on with preparing for what's next. Here are some actions for grocers to consider, both in the short term and the long term, to make their operations more adaptable.
Many grocers have already been heading this way, but recent events have clearly demonstrated the need for some adjustments.
· Revisit the customer experience. The first priority of grocery retailers must remain (as it has been since the beginning of this crisis) meeting customer demand any way possible—changing business hours to allow more time to stock shelves, redeploying corporate employees as needed to in-store positions, evaluating demand on a minute-by-minute basis and reacting accordingly.
In the midst of these activities, it's also important for retailers to keep their eyes open for valuable takeaways and lessons to be learned. For example, retailers that have not already been implementing automation technology should note the critical areas in this very real-world scenario where that technology would be helping now. For those who do have automation technology, the consideration should be understanding differences between how it was intended to be used and how it is actually being used. Retailers should start with "now" in mind in terms of meeting surges in customer demands and work their way back to figuring out how to organize automation to best meet those demands.
· Look to software technology for advantages. Companies with automation technology in place should look to implement strategies that address continued demand surges in online and in-store shopping. Evaluating data to uncover and anticipate inefficiencies hidden in order fulfillment is especially critical, as the world moves past the initial crush of in-store activity and into increased online activity.
Again, starting at the point of what is necessary for meeting customer demand today and working back to leveraging automated technology will create balance and adaptability. Today's technology allows companies to take full advantage of software algorithms to assess picking opportunities and workflows to best optimize order fulfillment.
· Move toward new distribution models. As the industry moves past the peak of the Coronavirus disease (COVID-19) crisis, grocers should start rethinking their distribution models.
In the recent past, a single, giant distribution center feeding dozens of stores made excellent business sense and was the model of choice. But, now, in addition to the current crisis, growing trends include smaller stores and increased urbanization, and that model may not be the best fit for all cases. The need for increased speed and flexibility is pointing many grocers toward hub-and-spoke models where order fulfillment is more dispersed. Instead of a rigid, top-down hierarchy, orders can be handled more nimbly across large and small distribution centers, as well as omnichannel fulfillment from in-store stock. Hub-and-spoke models include dark stores and micro-fulfillment centers that can address unplanned surges in demand and be quickly converted, for example, from online fulfillment to immediate in-store fulfillment.
This is the future—it comes soon enough
It's entirely reasonable to make predictions about what is going to happen in the future—less reasonable to think any of us can truly know what will happen.
The current environment may well turn out to be a tipping point for grocery businesses to accelerate thoughtful investment in automation and software technology to prepare their supply chains for major disruptions that spike demand and to better plan for the unpredictable. But, grocers who take a deep accounting of their operations and prepare them to be as nimble and flexible as possible will be in much better shape for whatever the future brings.