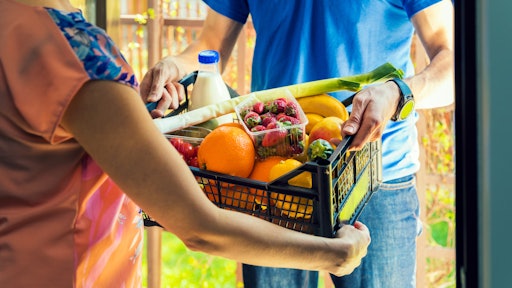 Getty Images
Grocery shopping has evolved significantly over the last few months, with more people considering contactless delivery and pickup options. What is the most popular grocery shopping method today, and what factors into this decision? How does satisfaction for one method rank against other methods?
DISQO surveyed audience members on:
Preferred grocery shopping methods
Overall satisfaction with different grocery shopping methods
Plans to purchase groceries via in-store, pickup, or delivery
Favorite aspects of each grocery shopping method
Overall shifts in grocery shopping over the last two months
Grocery shopping methods
Shopping in-store for groceries remains the most common method. In total, 85.7% people report that they recently acquired groceries via in-store shopping, compared to 26.7% of people who used grocery delivery or grocery pickup options
Most people only use one method of shopping to acquire groceries. While some use multiple methods to acquire their groceries (13.6%), most shoppers (86.4%) acquire their groceries through a single channel, whether choosing only in-store shopping (73.3%), grocery pickup (7.4%) or delivery (5.7%).
While 71% report satisfaction with in-store grocery shopping, 81% and 80% report satisfaction with grocery pickup and delivery, respectively.
Among people who have recently used all three grocery shopping methods (in-store, pickup and delivery), online ordering for store pickup generated the highest level of shopper satisfaction. Among those who only shopped online for delivery and pickup, delivery provided a slightly higher level of shopper satisfaction (at 79.7% for delivery compared to 78.1% for pickup).
In-store appeal
At a high level, consumers reported that product selection (66%) and convenience (50%) were their primary motivators for shopping in-store for groceries.
Product selection was a more pronounced priority among older age groups, particularly among those 65-74 (72%) and those over 71 (71%).
Pickup popularity
Overall, 81% report being satisfied with grocery pickup. This number steadily increases with age, making 18-24 year olds (73%) least content with pickup services and seniors over 75 (90%) most satisfied with this shopping experience.
Desire for delivery
In general, 80% of people report satisfaction with grocery delivery services. This number remains relatively stable across age groups, noticing the lowest level for 18-24 year olds (76%) and the highest for people over 75 years old (85%).
Similarly, 79% of people who have ordered grocery delivery plan to do so again in the next two weeks. People between 35-54 years old and 65-74 years old are most likely to order delivery.
Shifts in grocery shopping
When asked how their grocery shopping behaviors have changed over the last two months, people expressed they were shopping less in-store (39%), making more bulk item purchases (26%) and increasingly turning to both grocery delivery (16%) and grocery pickup (15%).
Still, 25% of people insist that their shopping habits have not changed in recent months.
This survey on grocery shopping experiences was conducted online, distributed to a nationally representative sample of DISQO Audience members within the United States via the Survey Junkie platform, which is wholly owned by DISQO. Surveys were taken on both desktop and mobile devices. A total of 28,940 responses were collected from May 11-May 15.