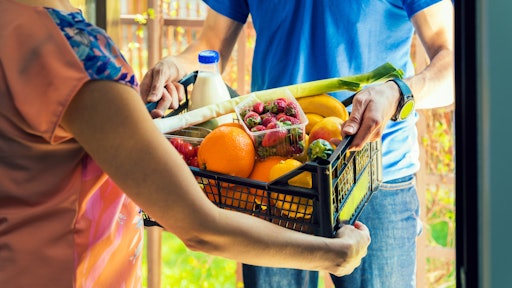 Getty Images
Online spending represented 16% of total retail sales for the year, according to a Digital Commerce 360 analysis of Commerce Department retail data. Amazon accounted for more than a third of all e-commerce in the United States.
Consumers spent $601.75 billion online with U.S. merchants in 2019, up 14.9% from $523.64 billion the prior year, according to the U.S. Department of Commerce quarterly e-commerce figures. That was a higher growth rate than 2018, when online sales reported by the Commerce Department rose 13.6% year over year.
Total retail sales increased 3.8% in 2019 to $3.763 trillion from $3.626 trillion the year before, according to Digital Commerce estimates using Commerce Department figures. The performance of overall retail last year marked a slight slowdown from 2018, when sales through all channels jumped 4.1%. Digital Commerce 360 studies non-seasonally adjusted Commerce Department data and excludes sales of items not normally purchased online such as spending at restaurants, bars, automobile dealers, gas stations and fuel dealers.
E-commerce also accounted for more than half (56.9%) of all gains in the retail market last year. That's the largest share of growth for online spending since 2008, when e-commerce represented 63.8% of all sales growth. Plus, this is only the third time in the history of U.S. retail that the year-over-year dollar gains for online purchases exceeded the gains for in-store spending in a given year.
In the fourth quarter of 2019, U.S. e-commerce sales reached $187.25 billion, up 16.4% year over year from $160.89 billion in 2018. Q4 fared much better in 2019 than the same period in 2018, when online sales rose just 10.8%. That was the second lowest rate for the quarter ever, behind a 6.1% decline in Q4 2008.
Despite the recovery, last year's Q4 growth was a deceleration from the 17.3% uptick in the third quarter of 2019. Growth in the latter half of 2019 was significantly higher than the year-over-year online sales growth registered in the first six months of the year, when e-commerce increased 11.6% in Q1 and jumped 13.6% in Q2. The third quarter's rate also marked the highest quarterly growth since Q4 2011, when online revenue spiked 18.6% over the same period the previous year.
E-commerce penetration hit 18% in the fourth quarter of 2019, marking online's highest ever recorded share of total retail sales. That compared with 16.1% for the same period during the prior year. Growth in digital sales also accounted for nearly two-thirds (65.2%) of all retail gains in Q4, up from 52.2% a year earlier.
When factoring out Digital Commerce 360's excluded categories, total retail sales in Q4 experienced the same trends. The fourth quarter had a 4.1% boost in overall retail spend to $1.038 trillion from $998.04 billion in 2018—a slower year-over-year growth than 4.8% in Q3 2019 but a better showing than Q4 2018, when total retail increased only 3.1%.