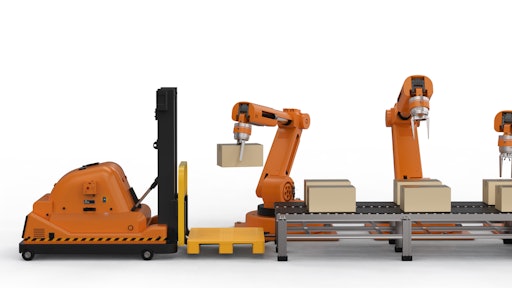 Getty Images
E-commerce has seen a steady uphill climb in recent years. All industries are scrambling to keep up with online orders, investing significant amounts of money into a revamped online presence, new warehouse space and automation.
The food and beverage space is no exception.
Growth Is a Challenge
Amazon's purchase of Whole Foods in 2017 for $13.7 billion disrupted the entire industry. Grocers were forced to come to terms with the fact that online grocery orders are the way of the future. According to a Commonsense Robotics 2018 report titled, Crossing the Grocery E-Commerce Rubicon, major retailers have invested over $28 billion in online grocery. Just last year Walmart spent over $11 billion in technology investments while Kroger partnered with Ocado, a British e-grocer that focuses on highly-automated warehouses to create over 20 automated fulfillment centers in the U.S. However, the No. 1 challenge that grocers are facing today when it comes to automation is the growth of their business.
"Virtually every company we're talking to today is looking at how they can grow and what they can do to support growth in the future," said Scott Deutsch, president of Ehrhardt Partner Group Americas during a recent Food Logistics webinar. "The thing that scares people the most about technological investments, whether it's automation or another technology, is making sure they scale and that they're flexible enough for an unknown future."
Online orders of food and beverages are starting to outpace fashion purchases for the first time. According to the CommonSense Robotics report, the average industry estimate for online grocery growth from 2017 to 2018 was 35 percent, securing 3 percent of the total $800 billion grocery market in 2018. The number is momentous for the industry, furthering the proof that online orders of groceries is here to stay. However, when surveyed, 76 percent of consumers said they prefer same-day delivery over next-day delivery and curbside pickup. In order to close the e-commerce fulfillment gap, companies have begun adopting and investing in emerging technologies and opening micro-warehouses closer to the customer.
"One of the main challenges we see is the rise of e-commerce in the food and beverage space. We're now seeing models of 'click-and-collect' and food delivery that is driving a new labor challenge. You have to think of what that means from a fulfillment perspective," says Saif Sabti, vice president of sales and Canadian operations for SSI Schaefer. "Traditionally, you have a store or a warehouse that allowed you to absorb some of the peaks and valleys. Now, we have very short fulfillment windows and people are moving toward urban distribution centers where labor is already challenging."
Technology Drives Decision-making
The United States is seeing a record low for unemployment within the last year. In a tight labor market, warehouses are struggling to recruit and retain skilled talent. Adding in the challenges of the "Amazon Effect" and having to deliver orders quickly, many are unable to compete in a market that is already compact. The rise of e-commerce is complicating an area that is already complex to begin with.
Labor—or lack thereof—is a major issue that is plaguing the industry. According to the Bureau of Labor Statistics, the warehousing and transportation space has seen the sharpest growth in the last 10 years since the 1970s. In order to fill the positions, companies are turning toward tech-savvy millennials to help work with the technologies that are in-house.
"The people that we are recruiting today are millennials," Deutsch explains. "They're technology savvy and from an age group in the workforce that has higher standards for technology than what we have ever experienced before."
Right now, automated warehouses are not a one-size-fits-all scenario. It is essential that if you look to automate your facility, then you retrain your workforce to be more up to date with the technology.
The study estimates that retailers lose $5 to $15 on every online grocery order that is picked manually. That number is only expected to increase as the volume of online orders go up. Automation solves for scale and economics, so only having one large distribution center is no longer going to work. Having several automated micro-warehouses, similar to what Kroger is doing with Ocado, will help improve efficiencies and deliver to the consumer quicker than ever before.
"Microfulfillment is on the rise and solely driven by the short fulfillment window and close proximity to the customer," Sabti says. "They cannot afford to be fully manual. There has to be a technology level at smaller centers."
Meanwhile, there are several different definitions when it comes to automated warehouses. The type used depends on the challenge needing to be solved. The food and beverage space is unique as warehouses are often climate controlled and have different operating challenges.
"It's a great industry to get into right now because there's such a broad range of products," says Norman Leonhardt, director of business development for WITRON Integrated Logistics. "Before someone gets into warehouse automation, extensive research must be done to ensure your own data and operations align with your automation partner."